Russian liberal TV channel forced to quit premises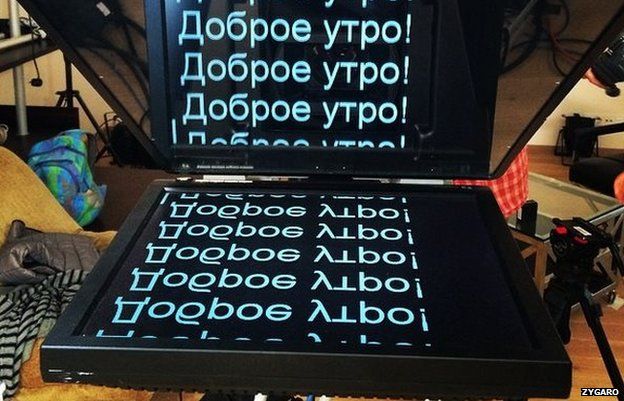 The best-known liberal TV channel in Russia has been forced to quit its rented studios in Moscow for the second time in as many months.
Rain TV (Russian: TV Dozhd) is a digital channel whose output contrasts sharply with state-run media, providing a platform for alternative views.
TV2, another private TV channel based in the Siberian city of Tomsk, faces closure at the end of the year.
The Kremlin has long been accused of undermining media independence.
The issue of media freedom acquired a new urgency this year when Russia intervened in Ukraine, annexing Crimea after a controversial referendum in March.
Since then, the Russian government has been accused of waging a covert war in the rebel Donetsk and Luhansk regions, an allegation it consistently denies.
Rain TV resumed broadcasts later, and was believed to be operating partly from a private flat, with the backdrop of a family sofa.
A photo posted online showed the autocue inside the flat reading, "Good morning". The message on the Instagram post read: "You are watching the most domestic channel, but this is certainly not Domestic TV", in reference to another channel.
Managing director, Natalya Sindeyeva, said the channel would have to continue its broadcasts there temporarily.
It was asked to leave the premises of Russia's Snob magazine, owned by tycoon Mikhail Prokhorov's company Oneksim, at Moscow's Krasny Oktyabr business centre on Monday.
The channel had been using Snob's premises since being forced to leave its original home in the same business centre in October, after the landlord refused to extend the lease.
Marina Gevorkyan, Snob's managing director, told Russia's Interfax news agency the magazine had never had a rental contract with Rain TV and had allowed it to use its studios "temporarily, until they found a permanent place".
"We helped Rain as best we could but we also need to relaunch projects, therefore we asked them to move out," she said.
Kremlin loyalists have long pushed for Rain TV, which came to prominence in 2011 during the mass anti-government protests in Moscow, to be closed down because of the reports it runs challenging the official line.
It incurred widespread wrath in January when it ran a readers' poll about the Siege of Leningrad during World War Two, asking if the city should have surrendered to the Nazi invaders. It later deleted the poll and apologised.
Only this weekend, it featured a debate about Russia's future with former prisoner and Kremlin critic Mikhail Khodorkovsky.
Broadcasting since 1991, TV2 is one of Russia's oldest private TV channels and considered by some to be the country's last politically independent television broadcaster.
The regional branch of the Russian state TV company, which transmits its signal, has announced it will not be extending its broadcast licence.