Anger at plans to boost religious teaching in Turkey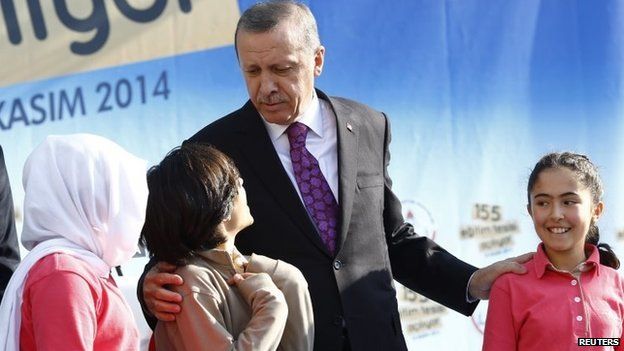 Turkey's education council has been criticised for proposing compulsory religious classes for young children and "values education" at nursery school.
Critics fear the proposals are part of the government's plans to change the secular education system.
The government said that reforms would "enlighten" the future.
The council's recommendations still have to be approved by the Ministry of Education.
Religious education is already compulsory from age nine in Turkey but the annual meeting of the National Education Council on Saturday concluded that lessons should be extended to children as young as six.
Turkey's new fault line - by Selin Girit, BBC Turkish
"We will raise a religious generation," said President Recep Tayyip Erdogan almost three years ago. And critics say what is happening now is in line with his past remarks.
As Turkey becomes more polarised by the day, education has become one of the frontlines in the battle to win over future generations.
The government was applauded by many when it lifted the headscarf ban in universities - which was a controversial issue for decades. However, compulsory religious education for children at the age of six is seen as a step too far in a secular country.
The education council also recommended the introduction of compulsory Ottoman language lessons at high schools. Mr Erdogan said on Monday: "Ottoman will be taught and learned in this country, whether they like it or not." It was a clear sign that the governing party will not be searching for consensus while pushing forward such policies.
The council has also recommended that religious lessons for older children should be increased from one hour to two hours a week.
Other reforms include a proposal to allow students from the fourth grade onwards to take two years off school to allow them to memorise the Koran. The plans would also ban classes that teach tourism students how to serve alcoholic drinks.
According to local media, a proposal to make religious classes compulsory for nursery school children was rejected but not before it caused a fierce argument.
Today's Zaman newspaper reported that opponents of the plan were accused of being "atheists" during the debate last week.
The proposals have angered opponents who believe that the governing Justice and Development Party (AK) is interfering in the school curriculum.
Turkey's main opposition leader, Kemal Kilicdaroglu, accused the council of trying to take "society backwards" on Saturday.