Last French hostage Lazarevic freed in Mali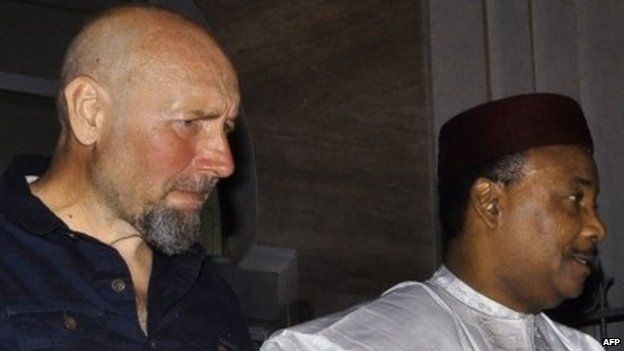 The last French hostage to be held by Islamist militants has been freed after three years, French President Francois Hollande has announced.
Serge Lazarevic was snatched in Mali in November 2011 along with fellow Frenchman Philippe Verdon.
Militants from the Al-Qaeda in the Islamic Maghreb (AQIM) group killed Mr Verdon last year.
TV footage showed Mr Lazarevic smiling as he told reporters that he had lost about 20kg (44lb) during his ordeal.
"I would like to thank the people of Niger who have collaborated with France to get me freed," he said, adding that he felt "fine".
Mr Hollande said there were no more French hostages waiting to be freed anywhere in the world.
He said that Mr Lazarevic was in "relatively good health" despite the conditions of his captivity.
The former hostage is now in Niger from where he will return to France.
AQIM kidnapped a number of Western hostages before the French military deployed its forces against the group in January 2013.
There were at one point at least 14 French nationals being held by Islamists in West Africa.
Mr Hollande also thanked the authorities in Niger and Mali, who had "worked towards this happy outcome".
There have been no details about how the release of Mr Lazarevic was secured. Anonymous sources told the Reuters news agency that several Islamist-linked militants held in Mali were freed.
The French government has repeatedly denied paying ransoms for hostages.
During his captivity, Mr Lazarevic appeared in several AQIM videos. Mr Verdon was killed last year, with the militants saying it was in retaliation for France's intervention in Mali.
There was concern for the 50-year-old father's health in November after he was filmed pleading for his release.
He looked frail in the video and was filmed alongside a second hostage, Dutchman Sjaak Rijke.
It is not clear where the two men were held or whether they were held together.
Mr Rijke was kidnapped in November 2011, while visiting the city of Timbuktu as a tourist. There has been no news from him since the video.