France economy: Valls announces reforms amid protests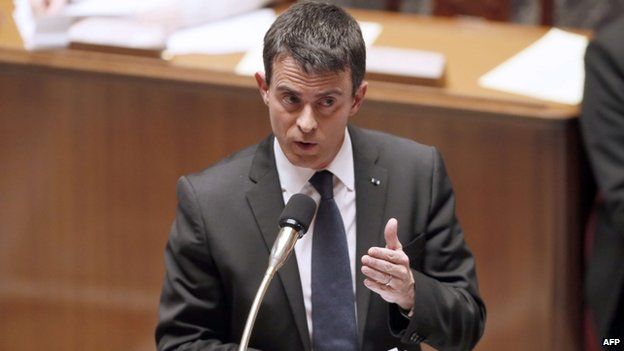 French Prime Minister Manuel Valls has announced reforms aimed at boosting the economy and combating unemployment.
The plans include increasing the number of businesses operating on Sundays and opening up regulated sectors to competition.
Thousands of opponents demonstrated in Paris in response.
Critics say the measures go against the political beliefs of the country's left-wing government.
Economy Minister Emmanuel Macron outlined the controversial plans to government ministers.
On Wednesday, Mr Valls acknowledged stiff resistance to the plans from within the ruling Socialist Party, remarking that the planned reforms were "more popular with the French voters than with some in public life".
"This is not a law about the protected professions or about working on Sundays," the proposed legislation states.
"This is a law which seeks to remove, in a pragmatic way, obstacles we have identified in several sectors to free up untapped potential for growth and activity."
The reforms may help France avoid fines - being threatened by Brussels - for breaking European Union rules on the size of its public deficit.
The plans, which will be debated in parliament in January, would let shops open up to 12 Sundays a year, up from five.
"Do we want millions and millions of tourists - notably Chinese - who come to the capital to leave us and go and do their shopping in London on a Sunday?" AFP news agency quoted Mr Valls as saying in a recent interview.
The reforms would introduce competition on long-distance bus routes and open up "protected" professions such as notaries, bailiffs and lawyers.
Unemployment in France remains above 10% and has risen over the past few months.
President Francois Hollande has vowed not to stand for re-election if he fails to reverse the trend.