France's Toulouse killer Merah 'attacked jeweller's'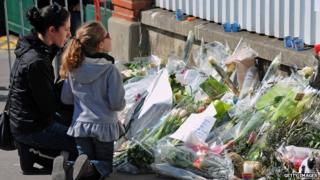 French Islamist Mohammed Merah, who murdered seven people in Toulouse in 2012, is suspected of staging a robbery between his gun attacks, reports say.
Merah killed three soldiers on 11 and 15 March, before shooting three children and a teacher at a Jewish school on 19 March.
Now police believe that he and two accomplices targeted a jeweller's on 17 March, Europe 1 radio says.
Gold and jewellery were seized in the raid in Toulouse.
The gang of three had been armed and had targeted the jeweller at his home on the outskirts of Toulouse, before taking him to his shop, the report says.
The gold and jewellery were said to have been sold the next day for 10,000 euros in cash and the buyer was later found with the jewellery.
What is unclear is why it has taken investigators so long to discover Merah's connection to the raid.
There are also questions over the identity of the two accomplices and whether they may have helped the gunman stage his attacks, first in Montauban and then Toulouse.
Europe 1 says gun cartridges of the type used by Merah in his shootings were dropped at the scene of the robbery and some of the cash from the sale found in his car.
The man who bought the gold and jewellery is said to have been identified as the same person who sold Merah the machine gun he used in the murders two days after the raid at the Ozer Hatorah Jewish school.
Merah, 23, was eventually killed on 22 March during a lengthy police siege at his flat in Toulouse.
A French citizen of Algerian descent, he had been known as a petty criminal who had served short sentences in jail. He later told police he was a member of al-Qaeda and had visited Pakistan and a Taliban-controlled area of Afghanistan.