Ian Bailey case: Marie Farrell walks out of High Court witness box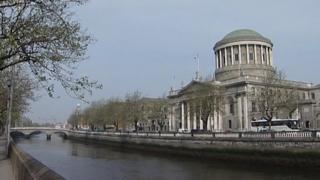 A judge has warned a woman who walked out of a witness box in a high profile court case that if she did it again, it would be her last walk out.
Marie Farrell has been giving evidence at the High Court in Dublin in a case where Ian Bailey is suing the Irish state for wrongful arrest.
He was arrested twice over Sophie Toscan du Plantier's 1996 murder.
Ms Farrell walked out of court on Thursday after refusing to answer a question but has resumed her evidence.
After she returned to the witness box, the judge told Ms Farrell that there were very severe sanctions for people who committed perjury and advised her to consider her evidence very carefully.
Earlier, the witness objected when a barrister asked her to reveal the name of a man she was with in County Cork on 23 December 1996.
It was the same date that Ms Toscan du Plantier, a French film-maker, was found beaten to death outside her holiday home near Schull in County Cork.
Ms Farrell, a key witness in the murder investigation, had previously told police she saw another man on a bridge before the murder.
Mr Bailey, a 57-year-old journalist originally from Manchester, was arrested but never charged over Ms Toscan du Plantier's murder.
He denies any involvement and claims police tried to frame him over the film-maker's death.
As Ms Farrell returned to court on Thursday afternoon, the judge was told she was willing to write down the name of the man she was with on 23 December 1996 on a piece of paper.
However, the judge said he would not allow it, as it was a public trial and there could be no secret evidence.
He told Ms Farrell the jury represented the people of Ireland and had to be told everything.
The judge added that she had been quite happy to make other statements about other people and cause great embarrassment to them and their families.
Ms Farrell then named the man she had been with as John Reilly, a factory worker from Longford whom she knew from childhood. She said he has since died.
However, it was put to her that she had previously given police another name for her companion.
She denied this and accused the police of inventing the other man's name.
When asked why she had tried to keep Mr Reilly's name secret, Ms Farrell said: "I didn't want to make things difficult at home."
She said she had never told anyone of his identity.
"So you stormed out of court because you might have to name the 14 years or more deceased man who was not very important to you?" Mr O Higgins asked.
"No I stormed out of court because I am here voluntarily but it feels to me like its turning into a personal assault on my private life and I'm finding it very, very difficult."
She had previously told the court that the man in whose car she was travelling was not her husband and that she did not want anyone to find out who she was with.
Later on Thursday, lawyers for the state moved on to another part of her testimony and accused Ms Farrell of telling an "outright, barefaced lie" to the jury.
Ms Farrell gave a statement to Irish police in July 1997 in which she accused Mr Bailey of threatening her in her shop in London.
In the statement, she said Mr Bailey knew her address in London and knew she had to leave the city because she had been in trouble with the UK's Department of Social Services.
She has since told Dublin's High Court that she had made up these allegations at the behest of Irish detective Jim Fitzgerald.
A video recording of a statement she made to the Irish police watchdog, the Garda Ombudsman, was then played in court.
In the video, Ms Farrell she had falsely claimed UK income support and rent supplement and had to leave London because she owed the Department of Social Services £27,000.
Having watched the recording, Ms Farrell told the court she was getting confused about fact and fiction in the tape but insisted what she was saying in court was the truth.
She said she could not understand how she got so confused and told the lawyers they could check with the UK's Department of Social Services if they wanted to.
As the court finished for the day, the judge Ms Farrell that if she walked out of court again, it would be her last walk out.
Ms Farrell apologised.