Ian Bailey case: Marie Farrell quizzed again about man she was with on night of murder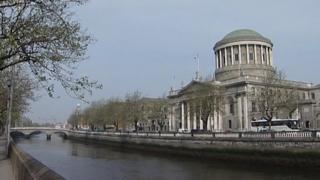 A woman who walked out of the witness box at the High Court in Dublin is being questioned again by a counsel for the state about the man she was with on the night of a murder in west Cork.
Marie Farrell has been giving evidence in a case where Ian Bailey is suing the Irish state for wrongful arrest.
He was arrested twice over Sophie Toscan du Plantier's 1996 murder, but denies any involvement.
Ms Farrell later said the man she was with was John Reilly from Longford.
She walked out of court on Thursday after refusing to answer a question, but later resumed her evidence.
On Friday, a senior counsel for the state asked Ms Farrell for more details about Mr Reilly.
She said her mother telephoned her some time before 2000 to tell her Mr Reilly had died in England.
Ms Farrell said she could not remember what age she was when she first met him, but thought she was in her early teens.
She said she did not know where she had first met him and did not know where exactly in Longford he lived.
'Impossible questions'
She thought he was three or four years older than her, but did not know where he had gone to school.
Ms Farrell told the lawyer he was asking her impossible questions.
The state counsel said they were not impossible questions unless she was making it all up.
Ms Farrell denied this.
She said she could not remember what she had talked about with Mr Reilly on the night they met in 1996.
Ms Farrell said she never spoke to Mr Reilly again and did not know that police attached a high importance to finding the man in question.
She said she was told by police that they only needed a two-line statement from her.
State counsel also asked her about phone calls between herself and Det Jim Fitzgerald.
He said of the 34 calls that had been taped, 30 of them had emanated from her.
'Constant contact'
Ms Farrell said that could be because Det Fitzgerald had asked her to call him at certain times.
She claimed he wanted to be in constant contact with her and wanted to know everything she was doing.
Mr Bailey, a 57-year-old former journalist originally from Manchester, was arrested but never charged over Ms Toscan du Plantier's murder.
He denies any involvement and claims police tried to frame him over the film-maker's death.
The case continues.