Belgium dowager Queen Fabiola has state funeral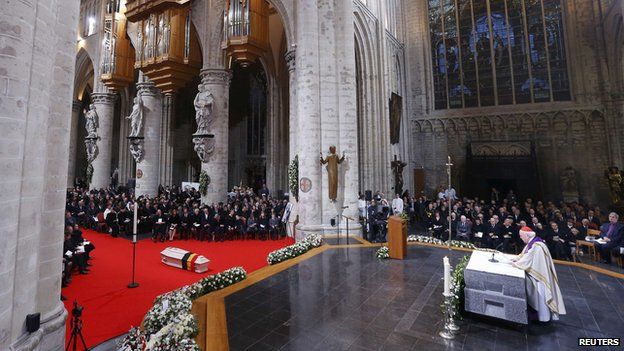 Belgium has held a state funeral for the dowager Queen Fabiola, who died last week at the age of 86.
Born Fabiola de Mora y Aragon in Madrid, she was the widow of King Baudouin and reigned as queen consort from 1960 until his death in 1993.
Representatives of global royalty attended the ceremony at Brussels' Cathedral of St Michael and St Gudula.
The deeply Catholic queen was seen as a unifying force in a country divided between Flemish and French speakers.
Queen Fabiola and King Baudouin did not have any children. After the king's death, the crown was passed to his brother, Albert, who abdicated in 2013 in favour of his son, Crown Prince Philippe.
The former queen's body was taken from the Royal Palace in Brussels in a flag-draped coffin on Friday.
It was accompanied by soldiers on horseback, amid heavy rain and fierce winds. Flags across the city flew at half mast.
The funeral at the cathedral was attended by members of the world's royal families, including Japanese Empress Michiko, Thai Crown Princess Maha Chakri Sirindhorn and Spain's former king Juan Carlos.
The former queen is to be buried next to her husband in Laeken.
The Spanish-born dowager queen was recently at the centre of a row over her annual allowance.
A private foundation she set up in 2012 was widely seen as a way to avoid paying Belgium's 70% inheritance tax.
The row over her allowance caused a national outrage.
Following the scandal, the foundation was disbanded, and the dowager's annual allowance was reduced by around 1.4m euros ($1.8m; £1.14m) to about 900,000 euros.