2024 Olympics: Italy PM Matteo Renzi confirms Rome bid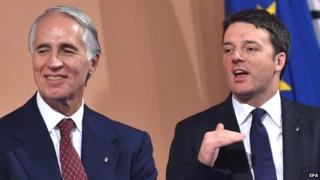 Rome has confirmed it will enter a bid to host the 2024 summer Olympic Games.
Italian Prime Minister Matteo Renzi made the announcement on Monday at an event in the city attended by the head of the Italian Olympic Committee.
Mr Renzi said at the event: "Our country too often seems hesitant. It's unacceptable not to try... or to renounce playing the game."
Amid speculation about rival applicants to host the games, Kenya has emerged as a potential bidder.
If successful, Kenya would be the first African nation to host the Olympic Games - however, bids need to be made by cities, and Kenya has not formally announced a prospective host city.
The formal "applicant city phase" for the 2024 games will begin in September 2015, with the deadline for cities to make their applications set for 8 January 2016. The host city will be chosen in summer 2017.