Denmark challenges Russia and Canada over North Pole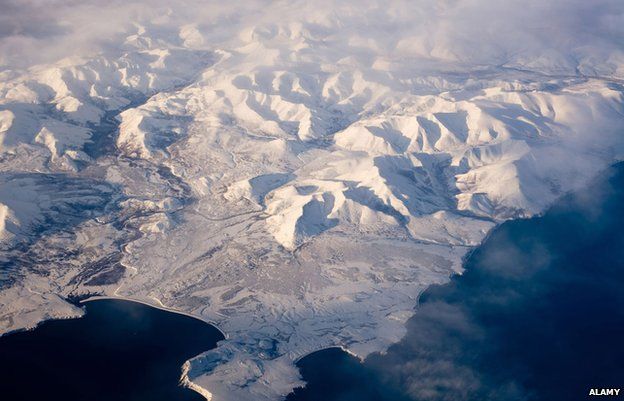 Denmark has presented a claim to the UN, arguing that the area surrounding the North Pole is connected to the continental shelf of Greenland, a Danish autonomous territory.
Canada and Russia have already asserted their own sovereignty over the energy-rich Arctic territory.
Arctic nations have agreed that a UN panel will settle the dispute.
The focus of the dispute is the Lomonosov Ridge, a 1,800km-long (1,120 miles) underwater mountain range that splits the Arctic in two.
Back in 2008, a US Geological Survey report estimated that as much as 22% of the world's undiscovered and recoverable resources lay north of the Arctic Circle, but the North Pole itself is unlikely to have much oil or gas beneath its deep waters.
A team from the Danish mission at the UN presented three boxes to the commission on Monday, a spokesman told the BBC.
The 21-member panel investigating the competing claims to the pole will have to decide whether the scientific evidence put forward is valid. If the claims overlap, the relevant states will then have to negotiate, the spokesman said.
Mr Lidegaard said data collected since 2002 backed Denmark's claim to an approximate area of 895,000 sq km (346,000 sq miles)- roughly 20 times the size of Denmark - beyond Greenland's nautical borders.
Denmark, along with Russia, Norway, Canada and the US said in 2008 that the territorial dispute should be settled under the United Nations Convention on the Law of the Sea.
After ratifying the convention, a country has 10 years to submit a claim to extend its continental shelf beyond 200 nautical miles from its borders. Canada expressed formal interest last year, and Denmark's deadline is about to run out.
Jon Rahbek-Clemmensen of Denmark's Syddansk University said the government in Copenhagen had staked its claim, partly to show the world that Denmark could not be pushed about, but also to prove a political point to the people of Greenland.
"There's a strong push for independence in Greenland, and Denmark wants to show it's capable of taking its interest into account," he told the BBC.
"By taking this step, Copenhagen is sending a signal [to Greenland]: 'Listen, we're on your team'."
A Russian submarine planted a rust-proof titanium flag 4,200m (14,000ft) beneath the North Pole in 2007, provoking an angry response from Canada.
However, Danish scientists were firm in their claim on Monday. "The Lomonosov ridge is the natural extension of the Greenland shelf," Christian Marcussen of the Geological Survey of Denmark and Greenland told AP news agency.