Leitrim protesters say fracking could damage tourism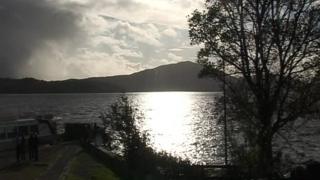 Fracking - the hydraulic fracturing for gas - is as controversial in the Republic of Ireland as it is in Northern Ireland.
Stormont's environment minister, Mark H Durkan, says it will not easily happen in Northern Ireland.
But what about south of the Irish border?
With its noisy waterfalls, rippling lakes and bleak windswept mountains it is easy to see why locals call their county lovely Leitrim.
It borders Fermanagh where the prospect of fracking has met with a lot of resistance.
And people like JJ O'Hara, who is involved in the tourism industry south of the border are equally opposed.
He believes the extraction of shale gas is unnecessary.
"Hydro-power, the power of waterfalls, lakes and waves that we're not even using show that we have a lot of energy already without fracking", he says.
"The beauty we have needs to be kept and sold as a sustainable tourist product and not as a drill-site that can be found in any other place in the world."
Standing on a mountain that is home to sheep, near Manorhamilton and which overlooks the Garrison area of Fermanagh, Nuala McNulty echoes that view.
She says: "I'm opposed to fracking in this area because I think it's a huge pollution danger. We have very sustainable industries here already like farming and tourism. And I think they would be under serious threat if there was fracking in this area."
Michael Gallagher, a farmer, is feeding his sheep as his grandson looks on.
The sheep are like walking graffiti adorned with the multi-coloured slogan: "No Fracking".
"I'm an old, over-the-hill farmer whose sell-by-date is near up, and I wouldn't like to think that I'm the last generation of farmers to farm in this part of the country," he says.