Couples tango for Pope Francis in St Peter's Square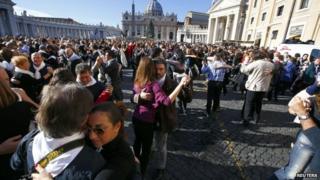 Hundreds of couples danced a mass tango in Rome to honour Pope Francis' 78th birthday.
The St Peter's Square tango was the brainchild of a dance teacher who appealed on social media for couples to show their support for the pontiff.
Pope Francis, who was born in Buenos Aires, is known to be a big fan of the Latin American dance.
The event took place during the pontiff's weekly public audience in the square.
About 13,000 people attended the address, with some well-wishers bringing birthday cards, cake and the Argentine drink mate.
In an interview several years before he became head of the Catholic Church, Pope Francis talked about his passion for the tango.
"I love it. It's something that comes from deep within me," he said, according to the AFP news agency.
The tango developed at the end of the 19th Century on the streets of Buenos Aires and Montevideo, the capital of Uruguay.
Since being elected pontiff in March 2013, Pope Francis has established a distinctive papal image that led to Time magazine declaring him its Person of the Year.