EU leaders focus on investment boost and Russia tension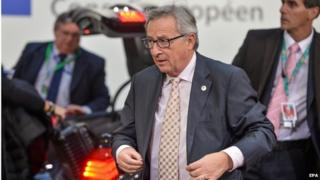 EU leaders have begun a Brussels summit focusing on an ambitious investment plan for Europe and the bloc's strained ties with Russia.
European Commission President Jean-Claude Juncker wants to generate €315bn (£250bn; $392bn) of private investment for infrastructure projects.
The EU has further tightened sanctions against Crimea, annexed by Russia from Ukraine in March.
Its foreign policy chief urged Russia to "switch to a co-operative mode".
Federica Mogherini said it was time for the Minsk ceasefire deal on the conflict in eastern Ukraine to be fulfilled by all sides.
"It's time for the EU to concentrate on making Ukraine a success," she said on arrival.
Pro-Russian rebels in eastern Ukraine still have heavy weapons including tanks and rockets, despite demands by Kiev and the West for them to disarm. Continuing clashes in the Donetsk region have undermined peace efforts.
The European Union adopted its first new sanctions on Thursday since September, in response to Russia's actions in Crimea and eastern Ukraine, where pro-Russian forces reject rule by Kiev.
Under the latest measures, all EU tourist operators will be barred from operating in Crimea and European investment there will be banned.
Ms Mogherini accepted that Russia's rouble crisis was "not good news", but she added that President Vladimir Putin had to reflect on the need for radical change in attitude towards the rest of the world.
Infrastructure projects
UK government officials say the UK supports Mr Juncker's investment plan, but Prime Minister David Cameron is expected to suggest other ways of boosting the EU's economy.
On arrival he said the EU needed trade deals to open up markets for exporters. The big prize would be a far-reaching trade deal with the US, but the negotiations still have a long way to go.
Mr Cameron also urged the EU to prioritise completing the single market for services - including digital - and energy.
EU officials say the plan has broad support, although many details are still to be discussed. They want the legislative framework for the new investment fund to be ready in June.
The fund will be managed by the European Investment Bank (EIB), which aims to provide guarantees for private investors.
Former Polish Prime Minister Donald Tusk is chairing his first EU summit, as European Council President.
Dutch Prime Minister Mark Rutte is staying away from this summit - a surprise development - because he faces a coalition dispute over healthcare legislation.
He asked his Luxembourg counterpart Xavier Bettel to represent Dutch interests.
Job potential
Across the EU there is a need for better transport and energy links, as well as improvements to schools, hospitals and broadband.
A €1.3 trillion package of potential projects has already been submitted by the 28 member states - but some will not be eligible.
A project must be a public-private partnership, not one that is 100% publicly funded.
The European Commission says investments on the scale envisaged could create up to 1.3m new jobs in the EU.
However, with budget deficits still weighing heavily on the EU, the case for spending on big projects may prove a hard sell in European capitals.