People power dominated in Ireland in 2014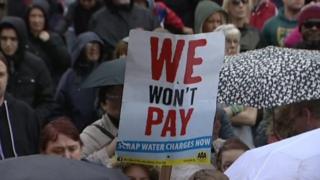 2014 was the year the people of the Republic of Ireland got angry after nearly seven years of tax rises and spending cutbacks, and angry after the state left the EU-IMF bailout and after the economy began what appears to be a major recovery, although one dependent on external factors.
The issue was water charges and the Fine Gael-Labour coalition government was forced into a significant climbdown on costs and implementation after people took to the streets in their tens of thousands on three occasions.
Chants of "power to the people" were widely heard and placards demanding an end to the charge and condemning the Irish prime minister (Taoiseach), Enda Kenny, were carried by many.
"It's primarily about water today, but it's really about everything. People are just fed-up," one participant told me.
'Mistakes of the greedy'
Another said: "Both my mam and I are widows. We just literally can't afford one more expense."
Another marcher put the protest in a wider context: "It's about all these taxes that are being forced on us to pay for the mistakes of the greedy on the backs of the needy, both here and in Europe."
Water charges were not the only example of people power in 2014.
In the local and European elections, the Labour party, the junior partner in the Fine Gael-led coalition, took a heavy hit in the wake of controversies about police whistleblowers, and the resignations of Justice Minister Alan Shatter and the Garda (police) Commissioner Martin Callinan.
Surrounded by fellow ministers Eamon Gilmore announced his decision to resign as party leader and deputy prime minister (tánaiste).
He told reporters that he took full responsibility: "I believe what this party needs is renewal; I believe that this government has work to complete. It's a full-term government. I believe the renewal of the party needs a new voice at the microphone."
Weeks later Joan Burton became Labour's news voice at that microphone,
If Labour suffered in the elections then Sinn Féin were among the winners, getting a candidate elected in all the Irish constituencies - north and south.
Matt Carthy had to wait several days, but finally crossed the line as Sinn Féin's fourth MEP.
In the immediate aftermath of victory he put his triumph down to popular support for a united Ireland, equality and fairness and opposition to austerity and emigration.
"We never again want governments that encourage and force our young people out of our communities and into different countries," he said.
Although Mr Carthy would not have known it at the time, it was the issue of forcing people out of communities, or more accurately, moving alleged IRA child sex abusers from one part of the island to the other that threatened to do most damage to Sinn Féin in 2014.
Exiles
After a BBC Spotlight report on Maíria Cahill there was a Dparliamentary (Dáil) debate and Taoiseach Enda Kenny did not hold back.
He said: "Under that elite so-called republican dispensation Northern Ireland could be scoured, secured and sanctified. While down here and incognito their rejects and their ejects, their undesirables and their exiles could live with, even prey on our women and our children."
Sinn Féin leader Gerry Adams replied, he indicated, more in sorrow than in anger.
"No evidence, whatsoever, has been produced to corroborate those claims," he said.
He added that he was "genuinely disappointed" in noting that neither the taoiseach nor the Fianna Fail leader, Micheal Martin, have any interest in "due process when it comes to attacking me personally or Sinn Féin generally".
Since that debate the issue of alleged IRA child sex abusers has featured in Dáil debates several times.
Tanaiste, Joan Burton, has been particularly robust.
In one exchange, amid uproar, she said: "We know from the discussions here previously and from the acknowledgements by your party that there has been a problem of paedophilia and sex abuse, particularly of children in the republican movement."
Controversy
Sinn Féin reacted furiously, but the issue does not appear to have damaged the party in the polls.
Economic matters are what a risen people seem more concerned about.
And as for the only poll that counts many suspect that the general election originally scheduled for April 2016 may now, because of the controversy over water charges, take place next year.
In the meantime, the Labour party will continue to look over its left shoulder at Sinn Féin, who in turn increasingly have to look over their left shoulder at the Trotskyite left and left-wing independents.
The most recent opinion poll suggested that more people intended to vote for independent candidates than for any political party.
In the aftermath of the water charges mass protests, if you forgive the unintended pun, politics in 2015 promises to be very fluid.