Greek MP Haikalis alleges 3m euro vote bribe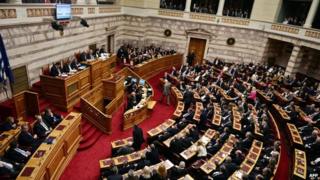 A Greek MP says he was offered a bribe worth 3m euros to vote for the government's candidate in a critical presidential vote in parliament.
Pavlos Haikalis said he was approached by an unnamed individual in the "financial sector".
If the government fails to secure enough support for its candidate, an early general election will be called.
But it has dismissed Mr Haikalis's bribery claim as an attempt to derail the forthcoming poll.
Mr Haikalis, a well-known TV actor, told reporters that when he was approached he thought it was as joke but soon realised it was serious.
A government spokeswoman, however, described the bribery allegation as "badly-acted theatre".
Mr Haikalis claims he handed over audio and video evidence to prosecutors and the government says if it exists it should be made public immediately.
Although his right-wing Independent Greeks party is small, Prime Minister Antonis Samaras's government needs its backing to pull through the presidential vote.
On Wednesday MPs began voting in the three-round presidential poll, with the only candidate being government nominee Stavros Dimas.
Mr Dimas secured 160 votes - 40 short of an outright win.
If he fails to secure enough parliamentary votes by the third round on December 29 then an early election will be called.
Greece's main opposition left-wing Syriza party - currently topping the opinion polls - is seen as being in a strong position to win the election.
Syriza's leaders have vowed to end co-operation with EU and IMF lenders and scrap Greece's austerity programme, pushed through as part of a massive bailout package.
Some investors are worried that a Syriza victory would trigger further economic uncertainty in the eurozone.