Austrian crooner Udo Juergens dies at age of 80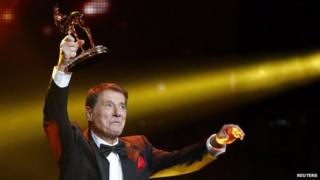 Udo Juergens, one of the best-known pop composers and singers in the German-speaking world, has died at the age of 80.
The Austrian-born artist died of heart failure in Switzerland just two weeks after his last concert.
In a career spanning five decades, Juergens sold more than 100m records.
In 1966, he won the Eurovision song contest with Merci Cherie. His hits touched on love and longing but also social issues.
A gifted pianist, he also composed classical music.
Juergens died of heart failure at 16:25 local time (15:25 GMT), the artist's company, Freddy Burger Management, announced.
He had been taken to a hospital after collapsing during a walk in the town of Gottlieben.
"In Udo Juergens we have lost an exceptional artist," German Culture Minister Monika Gruetters said in a statement.
Juergens first became popular with a number of hits in the 1960s, winning the annual Eurovision Song Contest in 1966.
In 1970, he did a marathon tour of Western and Eastern Europe, attracting huge audiences during the concerts.
He also composed classical music and conducted the Vienna Philharmonic Orchestra in the 1980s.
He was born Udo Juergen Bockelmann in the Austrian city of Klagenfurt.
In 2007, he was granted Swiss citizenship.