Greek presidential vote goes to third and final round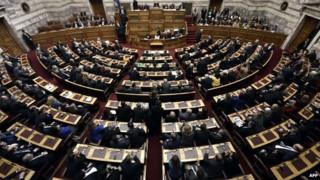 The Greek parliament has failed for a second time to approve a new president, bringing the country closer to a snap election early next year.
Government candidate Stavros Dimas was 32 votes short of the 200 required, meaning a third and final vote will now be held on 29 December.
For that election, the required number of votes to win will be lowered to 180.
PM Antonis Samaras said he was optimistic that Tuesday's improved result would lead to victory next week.
Economic uncertainty
"I am hopeful that in the third round we will avoid a national danger," Mr Samaras said immediately after Tuesday's parliamentary vote in which Mr Dimas secured 168 votes - 12 short of the total required for victory in the decisive third vote.
However, opposition Syriza party leader Alexis Tspiras said that there was no option other than to hold a general election, which will have to be held in any case if next's week final round is also inconclusive.
BBC Europe Correspondent Damian Grammaticas says that it now looks unlikely that the government will win next week, with Syriza ahead in the polls.
Our correspondent says the fear is that new elections will bring new economic uncertainty to both Greece and the eurozone.
Greece's two-party coalition has 155 seats and needs support from opposition or independent lawmakers to ensure a win for former EU Environment Commissioner Mr Dimas.
Anger over tough austerity measures - demanded by international creditors - has fuelled many protests in Greece, with Syriza calling for an end to the government's austerity measures.
Mr Samaras has warned that the country could risk a disastrous exit from the eurozone if MPs fail to elect a president.