Turkey 'Marxist' held over attack near PM's offices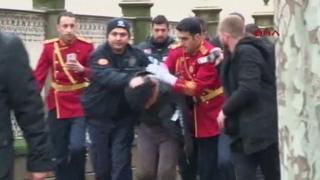 A man arrested for attacking guards near the Turkish prime minister's offices in Istanbul belongs to a banned Marxist group, Turkish media report.
TV footage showed a man being arrested by guards outside Dolmabahce Palace in Istanbul on Thursday.
Reports say he threw two grenades which failed to explode.
Turkey's Sabah news said he shouted slogans of the banned DHKP-C group and said he had acted to avenge the death of a boy fatally injured by police.
The suspect reportedly shouted "We will avenge the death of Berkin!" - a reference to 15-year-old Berkin Elvan, who died last year from injuries sustained in anti-government protests in 2013.
Mr Elvan died in March 2014 after nine months in a coma. He had been hit by a police tear gas canister.
The Istanbul suspect was armed with a gun, as well as the grenades, and had reportedly spent time in jail previously.
The DHKP-C is considered a "terrorist" group by Turkey, the European Union and US. It has carried out sporadic and sometimes deadly attacks in Turkey and abroad. It claimed a suicide bombing in February 2013 at the US embassy in Ankara, where a security guard was killed.
The offices at the palace are used by Prime Minister Ahmet Davutoglu, but he is not believed to have been there at the time.