Roma baby buried in France as probe launched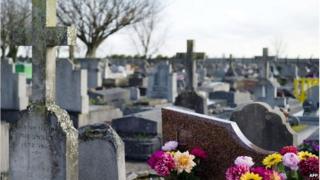 A Roma baby has been buried in a French cemetery amid a row over the reported refusal by the mayor of a neighbouring town to grant her a grave.
The baby was buried in Wissous, south of Paris, after town of Champlan reportedly refused her burial.
On Sunday Champlan's mayor denied this. An investigation has been launched.
The apparent refusal to bury the baby has sparked outrage. President Francois Hollande condemned those who "try to find an enemy within".
Prime Minister Manuel Valls called the incident an "insult to France".
The girl, Maria Francesca, was born in mid-October and died on 26 December of sudden infant death syndrome.
The conservative mayor of Champlan, Christian Leclerc, was reported to have refused to bury her. He was quoted by Le Parisien newspaper as justifying the decision by saying that his town was running out of burial space and that "priority is given to those who pay local taxes".
On Sunday he said his words had been "taken out of context".
"At no stage was I opposed to this burial. It's been blown out of proportion," he told Agence France-Presse.
He later said his words had been misrepresented, and apologised to the family.
But Jacques Toubon, France's Defender of Human Rights, said he was "shocked and stunned" and announced an inquiry.
The mayor of Wissous, Richard Trinquier, had said he was flummoxed by the reported refusal, and that he would offer a grave, saying it was "a question of humanity".
'Political issue'
The Roma - often referred to as "gypsies" - are a nomadic people whose ancestors are thought to have left north-west India at the beginning of the 11th Century and scattered across Europe.
The presence of Roma people from Eastern Europe has been a fractious political issue in France.
It has one of the harshest policies in Europe towards Roma immigrants, regularly demolishing the camps that many of them live in, and deporting thousands every year.
Approximately 400,000 Roma and related groups (including migrant Roma and Roma with French citizenship) live in France, according to estimates from the European Roman Rights Centre (ERRC).
The estimated number of migrant Roma in France is between 15,000 and 20,000. The majority live in makeshift settlements.
In addition there are thousands of Roma from Bulgaria and Romania, many of whom live in unauthorised camps in urban areas across the country, according the French Roma rights umbrella group FNASAT.