France seeks end to Russia sanctions over Ukraine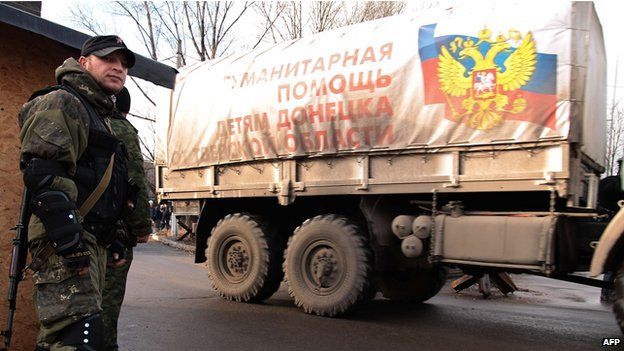 French President Francois Hollande says he wants Western sanctions on Russia to be lifted if progress is made in talks on the Ukraine conflict this month.
He did not specify which sanctions - imposed by the EU, US and Canada - could be lifted. The sanctions began after Russia annexed Crimea in March.
Mr Hollande said Russian President Vladimir Putin "doesn't want to annex eastern Ukraine - he told me that".
Germany's vice-chancellor has warned against further sanctions on Russia.
Sigmar Gabriel - a centre-left politician like Mr Hollande - said the sanctions were aimed at making Russia negotiate to resolve the Ukraine conflict. But some "forces" in Europe and the US wanted sanctions to cripple Russia, which would "risk a conflagration".
"We want to help get the Ukraine conflict resolved, but not to push Russia onto its knees," he told Bild am Sonntag newspaper.
The OSCE security organisation has reported sporadic shelling between Ukrainian forces and pro-Russian separatists in eastern Ukraine despite a ceasefire agreement. In late December several hundred prisoners were exchanged.
There have been calls elsewhere in the EU for an easing or lifting of the sanctions on Russia, which have hit its banks, energy industry and arms manufacturers, as well as targeting powerful figures close to Mr Putin.
Politicians in Italy, Hungary and Slovakia are among those who want the sanctions eased.
Many EU countries rely on imports of Russian gas, so the sanctions have raised fresh concerns about energy security.
Russia's retaliatory ban on most imported Western food and drink has also hurt many European businesses and economic hardship means fewer Russians are going on holiday in European resorts.
"The sanctions must be lifted if there is progress. If there is no progress the sanctions will stay in place," Mr Hollande told France Inter radio.
He confirmed that a France-Germany-Russia-Ukraine summit would be held in Astana, Kazakhstan, on 15 January, focusing on the Ukraine conflict.
But he said he would only go to Astana if there was a real prospect of progress.
The West accuses Russia of sending heavy weapons and troop reinforcements to the separatists in eastern Ukraine's Donetsk and Luhansk regions.
Russia admits that "volunteers" have gone there, but denies boosting the rebel ranks with regular troops and hi-tech equipment. It accuses the Ukrainian government of indiscriminate shooting in a "punitive" military campaign in the east.