Belgian rapist Van Den Bleeken refused 'right to die'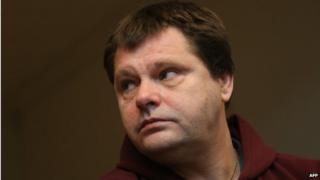 A Belgian man serving a life sentence for rape and murder will not be allowed to have doctors end his life as he has requested, the justice minister says.
Koen Geens said he was respecting the latest medical advice of doctors treating Frank Van den Bleeken, who is unable to control violent sexual urges.
Van den Bleeken will be moved to a new psychiatric treatment centre, he added.
Belgium is one of three European countries that allows euthanasia for terminally ill people.
But Van den Bleeken's case is the first involving a prisoner since the assisted dying law was introduced 12 years ago.
His request to undergo euthanasia won approval from Belgium's Federal Euthanasia Commission last September, after years of requests for the state to help him end his life.
But on Tuesday, Belgium's justice ministry released a statement saying Mr Geens "takes note of the decision of doctors treating Mr Frank Van Den Bleeken to no longer continue the euthanasia procedure".
A ministry spokesperson told the BBC that the doctor who was due to carry out the procedure - scheduled for 11 January - had withdrawn and was no longer willing to be involved.
'What's the point?'
Van den Bleeken, 52, was convicted in the 1980s of multiple sexual assaults and murder.
He had argued that he preferred to die rather than spend the rest of his life in prison.
"I'm in my cell 24 hours a day. That's my life. I don't feel human here. What do I have to do? Do I have to sit here and waste away? What's the point in that?" Van den Bleeken said in an interview aired on Belgian TV in 2013.
His legal team said there was no likelihood he would ever be released because his sexual urges were uncontrollable and the prospect of being behind bars for decades was causing him "unbearable" psychological suffering, says the BBC's Damian Grammaticas in Brussels.
Belgium's justice ministry says it is trying to get specialised psychological care for Van den Bleeken in the Netherlands.
The European Court of Human Rights has criticised Belgium several times for its failure to properly treat mentally ill prisoners.
Belgium's euthanasia laws hit the headlines last year when they were extended to cover children who are terminally ill.