France attacks: Huge marches for victims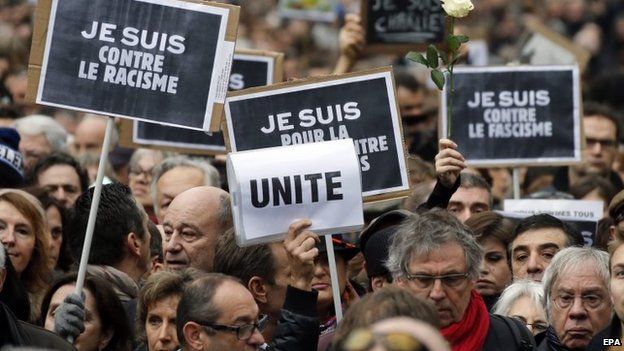 About 700,000 people are said to have taken part in marches across France following three days of deadly attacks in the Paris area.
They were held in cities including Paris, Orleans, Nice, Pau, Toulouse and Nantes, to commemorate the victims of this week's violence.
Seventeen people were killed in attacks on a satirical magazine, police officers and a kosher supermarket.
Police are hunting for accomplices of the three gunmen, killed by police.
The interior minister says France will stay on high alert in the coming weeks.
During the marches, held largely in silence, some protesters held banners that read "I am against racism", "unity", or "I am Charlie" - the latter a reference to Charlie Hebdo, the satirical magazine whose Paris offices were attacked by brothers Cherif and Said Kouachi on Wednesday.
Twelve people - including eight journalists and two police officers - were killed and 11 injured in that attack. Another gunman, Amedy Coulibaly, took several hostages at a kosher supermarket in eastern Paris on Friday. Four hostages were later found dead.
Coulibaly is also believed to be behind the killing of a policewoman in southern Paris on Thursday.
Addressing a large gathering outside the kosher supermarket that was targeted, Prime Minister Manuel Valls said: "Today, we are all Charlie, we are all police officers, we are all Jews of France."
There was tight security in Paris on Saturday, where some 500 extra troops are being deployed to back up the existing police and army presence.
Interior Minister Bernard Cazeneuve said all necessary measures were being taken to protect the country.
He also promised "exceptional measures" for a massive unity march in Paris on Sunday, including snipers on roofs and a total of more than 5,500 police and military personnel.
Dozens of foreign leaders are expected to attend the rally, including UK Prime Minister David Cameron, German Chancellor Angela Merkel and Palestinian leader Mahmoud Abbas.
The rally will depart from Paris's Place de la Republique at 15:00 local time (14:00 GMT).
More than a million people are expected to take part, the BBC's Chris Morris in Paris reports.
Relatives of the victims are expected to lead the demonstration, followed by the government and foreign leaders.
Prior to the march, Prime Minister Francois Hollande is expected to meet leaders of the Jewish community, while European interior ministers gather to discuss the implications of the attacks on the continent.
Families of the victims have begun to speak out about the attacks.
The family of Ahmed Merabet, one of the police officers killed during Wednesday's attack, gave an emotional news conference on Saturday.
Mr Merabet was "Muslim, and very proud of being a police officer and defending the values of the Republic", his brother Malek Merabet said.
"Our family is devastated by this act of barbarity, and shares the pain of the families of all the victims."
Malek Merabet added that "racists, Islamophobes and anti-Semites" should not confuse extremists with Muslims.
The family said they were "proud" of the gatherings that had taken place to commemorate the victims, saying they proved that France could be united.
Meanwhile, the family of gunman Amedy Coulibaly have condemned the Paris attacks.
In a statement, Coulibaly's mother and sister offered "sincere condolences" to the families of the victims, and said: "We absolutely do not share these extreme ideas. We hope there will not be any confusion between these odious acts and the Muslim religion."
Supermarket victims named
The violence began on Wednesday when Cherif and Said Kouachi, both heavily armed, attacked the offices of Charlie Hebdo magazine.
The brothers then went on the run, before becoming surrounded by police at a printworks warehouse in Dammartin-en-Goele, 35km (22 miles) north of Paris, on Friday. They were eventually killed after exchanging fire with police.
One hostage at the warehouse had been released earlier and a second employee, who was hiding in the building's cafeteria, was freed by police.
Also on Friday, Amedy Coulibaly took several hostages at a kosher supermarket in eastern Paris.
He had threatened to kill the hostages unless the Kouachi brothers were released.
Police stormed the supermarket on Friday evening, killing Coulibaly and rescuing 15 hostages. They found the bodies of four hostages who are believed to have been killed before the assault.
The four victims have been named as Yoav Hattab, Philippe Braham, Yohan Cohen, and Francois-Michel Saada. Their names were released by the Representative Council of French Jewish Institutions.
Police are searching for Hayat Boumeddiene, Coulibaly's partner.
Police sources and Turkish officials have said she may have been out of the country at the time of the attacks. They believe she left France for Turkey, possibly en route to Syria.
Police had previously identified her as a suspect in Thursday's shooting of a policewoman.
Said Kouachi was known to have travelled to Yemen in 2011, while he and his brother are understood to have been on UK and US watch-lists.
According to French prosecutors, Coulibaly knew one of the brothers and their respective partners had spoken on the phone more than 500 times.
How Friday unfolded (all times GMT)
07:00 - The Kouachi brothers hijack a car in Montagny-Sainte-Felicite, north of Paris. They are said to be carrying weapons including a rocket launcher.
08:30 - Pursued along the N2 road towards Paris, they exchange fire with police and take refuge in a printing works in Dammartin-en-Goele. They take the manager hostage.
10:30 - The manager is released, but another employee remains in the building.
12:15 - A man identified as Amedy Coulibaly takes several people hostage at a supermarket near Porte de Vincennes in eastern Paris. Coulibaly is also suspected of having shot dead a policewoman on Thursday.
16:00 - The brothers emerge in Dammartin, opening fire on police. Both men are killed. The trapped employee is released and tells police he had been hiding on the second floor, unknown to the gunmen.
16:15 - Security forces move into the supermarket in Paris and kill Coulibaly. It emerges that four hostages at the supermarket have been killed, but 15 others are freed.
Are you in the area? If you are happy to speak to the BBC, please email us at haveyoursay@bbc.co please remember to include a contact number.
Send your pictures and videos to yourpics@bbc.co.uk or text them to 61124 (UK) or +44 7624 800 100 (international). Or you can upload here.