UKIP's Nigel Farage urges 'Judeo-Christian' defence after Paris attacks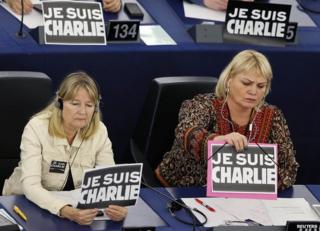 UKIP leader Nigel Farage has called for the defence of "Judeo-Christian culture" in response to Islamist terrorism.
He was speaking in a European Parliament debate on last week's terror attacks in Paris by Islamist gunmen.
Many MEPs displayed signs saying "Je suis Charlie" (I am Charlie), in solidarity with Charlie Hebdo magazine, where 12 people were murdered.
A minute's silence was held in memory of those who died in the attacks.
Mr Farage, leader of the anti-EU UK Independence Party, said mass immigration had "made it frankly impossible for many new communities to integrate".
"We do have, I'm afraid, I'm sad to say, a fifth column that is living within our own countries, that is utterly opposed to our values," he said.
"We're going to have to be a lot braver and a lot more courageous in standing up for our Judeo-Christian culture."
Leading British politicians criticised Mr Farage last week for speaking about a "fifth column", accusing him of trying to use the Paris murders to score "political points".
Commenting on his latest remarks, Liberal Democrat foreign affairs spokesman Tim Farron said: "Nigel Farage's politics of blame has no place in modern, diverse and tolerant Britain."
More than a million people marched through Paris on Sunday in solidarity with the 17 people who died in last week's terror attacks.
Opening the four-day plenary session, European Parliament President Martin Schulz read out their names.
Marine Le Pen, leader of France's nationalist Front National (FN), did not attend the Paris rally, saying she had not been invited.
In the European Parliament she attacked politicians' "laxity and concessions" towards Islamists. Like Mr Farage, she is critical of EU policies.
"Have not austerity economic policies destroyed our capacity to respond, disarmed our police, our intelligence services and our army?" she said.
"Let nations defend themselves."
A right-wing Polish MEP, Janusz Korwin-Mikke, displayed a sign in the chamber saying: "I am not Charlie. I am for death penalty."