Nazi camp row over German asylum homes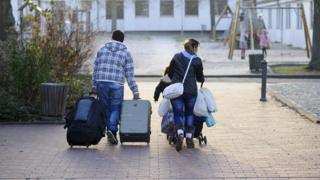 Refugee organisations have criticised plans to house asylum seekers in a former outpost of a Nazi concentration camp in western Germany.
Authorities in Schwerte are planning to put up around 20 asylum seekers in barracks, which once served as a satellite camp for Buchenwald.
The authorities say they are under pressure to accommodate growing numbers of asylum seekers.
But critics say the proposals are "alarming and disconcerting".
Ex-outpost of Buchenwald
If the local authorities in Schwerte have their way, asylum seekers will move later this week into one of the non-descript white barracks once overseen by the Buchenwald concentration camp, where more than 50,000 people died during World War Two.
The barracks are situated on the grounds of a Nazi-era railway repair workshop and some 700 forced labourers worked there until the outpost was closed in 1945.
Refugee groups say the plan as tasteless and historians describe the site as a place of exploitation, oppression and violence.
Communities under pressure
Local authority spokesman Carsten Morgenthal points out that communities in Germany are under increasing pressure to find accommodation for the growing stream of asylum seekers arriving in the country.
In an interview with Der Spiegel website, he said the building in question had never been used to accommodate forced labourers and had been put to various uses since the end of the war, as a home for war wounded, a storage site and, more recently, a kindergarten.
Germany receives by far the highest number of asylum seekers within the EU, expecting 200,000 applications in 2014 alone. Generally, it is up to local authorities to find enough space.
The increase in asylum numbers has also increased tensions in cities such as Dresden, where a local hotel owner has reportedly pulled out of a deal with the authorities to put up more than 90 asylum seekers.
German media say the owner had received threats via social media and anti-asylum slogans were sprayed on the hotel's walls.
Dresden is the home of the anti-Islamisation Pegida movement, which has spawned weekly marches in several cities and prompted strong criticism from political leaders.