Ian Bailey case: Man says he was 'threatened with provos'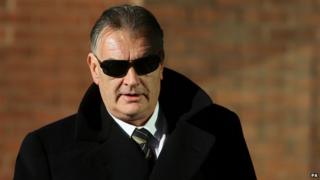 An ex-British soldier, who says Irish police gave him money and drugs to get information linking a former journalist to a murder, has claimed they threatened him with "the provos" after he told a newspaper.
Ian Bailey, denies any involvement in the killing of Sophie Toscan du Plantier and was never charged.
He is suing the state for wrongful arrest during the investigation.
On Wednesday, witness Martin Graham said he feared he would be murdered.
He told the High Court in Dublin that he eventually managed to leave the country and had not been back until now.
He said he still did not feel safe.
Ms Toscan Du Plantier, a 39-year-old film producer, was found beaten to death on a hillside near her remote holiday home in west Cork on 23 December 1996.
Mr Graham has told the court police gave him cash, cannabis and clothes to befriend Mr Bailey and get information linking him to the murder.
He said police told him there would be a large sum of money, £5,000, on offer if he could come up with a favourable statement.
Eventually he said his alarm bells started to ring and he realised something was wrong.
He said he knocked on Mr Bailey's door, showed him cannabis given to him by the police and told him "you're being stitched".
Meeting with police
Mr Graham said he had rung the Mirror newspaper, which had sent a reporter and photographer to Cork to meet him.
They arranged that he would meet police, and get cannabis from them and that he would tape the meeting and they would take photos.
He said he met police and was given cannabis, but when he got back he discovered the tape recorder had not worked.
An article was later published in the newspaper which showed Mr Graham holding the cannabis he said he had been given by the police.
Mr Graham described arranging to meet two officers at the end of May or beginning of June 1997 in Skibbereen.
He said another car came towards him. He did not recognise the people who were in it but later found out they were policemen.
He said he was dragged into the car and thought that he was going to be murdered.
Mr Graham said the car drove around for around 45 minutes and claimed the officers were "digging him in the back" and asking him where the tape recordings were.
Mr Graham broke down as he said he was threatened with "the provos".
He said this had a particular resonance for him as he had served in Northern Ireland with the British Army for two years.
He said he left the country and had not been back until now.