Belgium seeks extradition of Greece detainee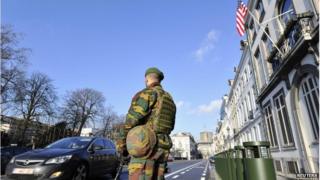 Belgium is asking Greece to extradite one of the suspects arrested there over a possible link with the alleged Islamist plot against Belgian police, prosecutors say.
The statement came hours after Belgium said there was no connection between those detained and the alleged plot.
The federal prosecutor's office now says "further analysis" prompted the latest request to Athens.
Europe is on high alert after gunmen killed 17 people in Paris last week.
"Further analysis of the elements of our investigation gave us enough reasons to ask for the extradition of one of the persons that were arrested yesterday by the Greek authorities," the Belgian federal prosecutors' office said in a statement.
It is not clear if the detainee sought is the one that was originally said to match the description of Abdelhamid Abaaoud, the alleged leader of the cell reportedly planning to kill police officers.
More than 20 people have been arrested in Belgium, France and Germany.
For the first time in 35 years, troops are on the streets of Belgium guarding sensitive targets.
More than 150 have been patrolling potential targets for militants, including the US embassy, synagogues and the Jewish museum.
Defence officials said the nation's security threat level would remain raised at three - the second highest level - for at least a week.
Jihadi plot
Belgium launched a series of raids on Thursday evening on a group of suspected jihadists.
Guns, munitions and explosives, as well as police uniforms and a large amount of money, were all seized by police during the operation.
Two suspects were shot dead during a gun battle with police in the town of Verviers, close to the German border.
Prosecutors said the group had planned to kill police officers and they charged five people on Friday with "participating in the activities of a terrorist group".
On Saturday, Belgian media said authorities were seeking Abdelhamid Abaaoud, a 27-year-old Brussels resident of Moroccan origin suspected of being the ringleader of the jihadi cell, and in hiding in Greece.
There is no confirmation on whether he is among those arrested.
No link has been established between the alleged plot in Belgium and last week's attacks in Paris. There, gunmen killed 12 people at the offices of satirical magazine Charlie Hebdo, a policewoman and four hostages at a kosher supermarket.
The developments have highlighted concerns about the return of young Europeans who have gone to fight in Iraq and Syria.
Belgium says up to 350 of its citizens have gone to fight in Syria and Iraq, the highest number per capita in Europe. About 100 have returned, and are being monitored by the intelligence services.