Ukraine conflict: Security in east deteriorating, say observers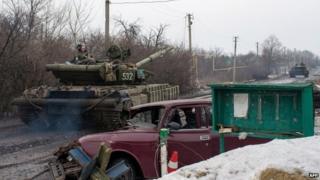 Observers in eastern Ukraine have warned of a serious deterioration in security as fighting intensifies in the Donetsk and Luhansk regions.
The Organisation for Security and Co-operation in Europe (OSCE) told the BBC that fighting around Donetsk airport was spreading further into the city.
A spokesman said that their greatest concern was for civilians, especially children.
Ukrainian forces and pro-Russian rebels both say they control the airport.
It has symbolic and strategic value to both sides and has been the scene of fighting for months.
Both sides have accused the other of breaching a ceasefire agreed in Minsk last September.
"What our monitors have been reporting is a serious deterioration of the security situation in the past few days with an increase in ceasefire violations," said OSCE spokesman Michael Bociurkiw.
"One of our biggest concerns is, of course, the civilians getting caught up in the conflict especially in and around Donetsk airport. Fighting is moving further and further into Donetsk city."
He described the deteriorating humanitarian situation as "absolutely horrific".
"What we've been seeing, very sadly, over the past few days as reported by our monitors is also children being caught up in the conflict - deaths, injuries, the inability to go to school."
On Monday, artillery fire was reported in several areas of the Donetsk and Luhansk regions and a hospital in Donetsk city was hit, reports said.
Airport in ruins
The airport in Donetsk city lies in ruins after fighting there surged last week, leaving dozens of people dead or wounded.
Officials in Kiev said many soldiers in the airport terminal were injured when a ceiling collapsed.
Pro-Russia rebels had earlier said that they had repelled attacks by government forces on Donetsk and the airport.
Russia said Ukrainian President Petro Poroshenko had not responded to a letter from President Vladimir Putin with a proposal for both sides to pull back their heavy weapons.
"It's the biggest, even strategic mistake of the Ukrainian authorities to bank on a military solution to the crisis," Deputy Foreign Minister Grigory Karasin was quoted by Interfax news agency as saying.
"This may lead to irreversible consequences for Ukrainian statehood."
Ukraine says that more than 8,000 Russian regular troops are helping the rebels.
Russia has repeatedly denied the claims, but has acknowledged that some "volunteers" are fighting alongside the insurgents.
Ukrainian Prime Minister Arseniy Yatsenyuk said on Monday that Russian cross-border arms supplies to the separatists were continuing.
Ukraine says it launched a counter-offensive at the airport last week because its troops were pinned down there. It insists the operation did not violate the peace plan agreed in Minsk.
Plans for another round of peace talks last week were abandoned.
More than 4,800 people have been killed since the rebels took control of parts of Donetsk and Luhansk regions last April. Many more civilians have been displaced.
The fighting began a month after Russia annexed Ukraine's southern Crimea peninsula.