France security: Chechens arrested amid high alert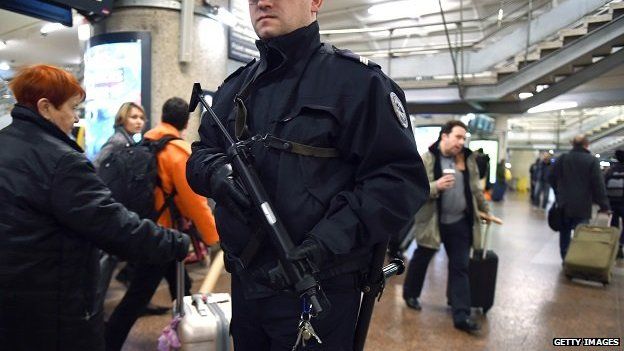 French police have detained five Chechens on suspicion of possessing explosives, with the country on high alert following attacks in Paris.
The men were known to organised crime units but not those investigating terrorism, officials said.
Separately, four men charged with supporting Amedy Coulibaly, one of the Paris gunmen, are due to appear in court in Paris later on Tuesday.
Seventeen people were killed in three days of shootings in Paris this month.
The Chechens were arrested in raids in Beziers and Saint-Jean-de-Vedas, near Montpellier.
A cache of explosives was found during police searches, and investigators are trying to determine whether the men were planning an attack.
People "shouldn't jump to conclusions" about the arrests, said Yvon Calvet, a prosecutor in Beziers.
Chechnya, a highly restive and predominantly Muslim region in Russia, has seen large demonstrations against cartoons of the Prophet Muhammad published by Charlie Hebdo last week.
Three days of attacks began in Paris on 7 January when brothers Cherif and Said Kouachi burst into the offices of Charlie Hebdo, killing 12 people.
Coulibaly killed four Jewish hostages on 9 January before being shot dead by police. He is also believed to have shot dead a policewoman the day before.
The Paris prosecutor's office said the four men in court on Tuesday - the first to face charges in the Paris terror attacks - were suspected of providing logistical support to Coulibaly.
The men, who were among 12 arrested on Friday, are expected to be placed under formal investigation.
French Prime Minister Manuel Valls said the attacks had highlighted deep divisions in French society.
"The stigmas are still present. A territorial, social and ethnic apartheid that has imposed itself on our country," he said.
"In addition to the social misery, are the daily discriminations, because someone does not have the right name, the right colour of skin, or because she is a woman.''
Almost 15,000 extra police and troops have been mobilised to boost security across France since the Paris attacks.
Meanwhile, a Malian man who helped shoppers during the supermarket siege by Coulibaly has received French nationality.
Lassana Bathily, a 24-year-old Muslim, hid customers inside a basement cold store when the gunman stormed the shop and took people hostage.
He received a French passport at a ceremony in his honour after his application was fast-tracked.
"People say I'm a hero but I'm not a hero. I'm Lassana," he said at a ceremony.
"I'll stay the same. I would do the same again, because I was following my heart."
How the attacks unfolded (all times GMT)
Wednesday 7 January 10:30 - Two masked gunmen enter Charlie Hebdo offices, killing 11 people, including the magazine's editor. Shortly after the attack, the gunmen kill a police officer nearby.
11:00 - Police lose track of the men after they abandon their getaway car and hijack another vehicle. They are later identified as brothers Said and Cherif Kouachi.
Thursday 8 January 08:45 - A lone gunman shoots dead a policewoman and injures a man in the south of Paris. Gunman later identified as Amedy Coulibaly.
10:30 - The Kouachi brothers rob a service station near Villers-Cotterets, in the Aisne region, but disappear again.
Friday 9 January 08:30 - Police exchange gunfire with the Kouachi brothers during a car chase on the National 2 highway northeast of Paris.
10:00 - Police surround the brothers at an industrial building in at Dammartin-en-Goele, 35km (22 miles) from Paris.
12:15 - Coulibaly reappears and takes several people hostage at a kosher supermarket in eastern Paris. Heavily-armed police arrive and surround the store.
16:00 - Kouachi brothers come out of the warehouse, firing at police. They are both shot dead.
16:15 - Police storm the kosher supermarket in Paris, killing Coulibaly and rescuing 15 hostages. The bodies of four hostages are recovered.