Turkish police arrest telecoms officials over wiretapping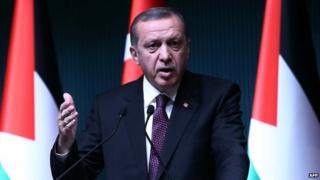 Police have arrested more than 20 people linked to Turkey's telecoms and science agencies on suspicion of illegally wiretapping politicians.
The suspects are the latest to be detained in raids over leaked telephone calls, involving President Recep Tayyip Erdogan, that suggested corruption.
Mr Erdogan says the illegal intercepts were part of a campaign led by US-based cleric Fethullah Gulen.
A court issued an arrest warrant for Mr Gulen last year. He denies the claims.
The raids on Tuesday took place in several places, including Ankara and Istanbul. Prosecutors issued arrest warrants for 28 people, according to state-run Anadolu Agency.
Hasan Palaz, the ex-head of Turkey's science and technological research council, was among those targeted in the latest operation, according to local media.
An investigation found that encrypted and regular telephones belonging to President Erdogan, Prime Minister Ahmet Davutoglu and other high-ranking officials had been unlawfully wiretapped, Anadolu reported.
Dozens of police officers have previously been arrested on illegal wiretapping charges.
The allegations involve officials who were part of a corruption investigation that targeted Mr Erdogan's inner circle while he was prime minister.
The inquiry emerged in December 2013 and was based in part on wiretapped conversations, many of which were subsequently leaked online.
It led to the sons of three ministers being detained and, ultimately, four ministers leaving their jobs.
Telephone intercept recordings were released last February purporting to show Mr Erdogan instructing his son to hide around €30 million (£23m; $36m) in cash following raids on government ministers.
Mr Erdogan dismissed the recordings as a "vile montage".
He has accused Mr Gulen of running a "parallel state" in Turkey, controlling groups of police, lawyers and politicians.
But Mr Gulen, a one-time ally who lives in self-imposed exile in the US, has denied using his influence to start investigations into allegations of government corruption.