Ukraine conflict: Is Russia stoking war or pushing peace?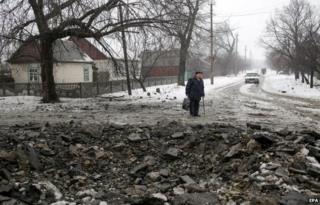 Barely a week ago, there were hopes of an international peace summit for eastern Ukraine. Now, with fighting around Donetsk reaching an intensity not seen for a long time, the chances of such a breakthrough look increasingly slim.
Russia's deputy foreign minister talked on Monday of "serious consequences for Ukrainian statehood" following a surge in violence that has claimed increasing numbers of casualties.
Some interpret that as a warning of increased military intervention by Moscow. Russia is already accused by Nato and Kiev of arming and supporting the separatist rebels in eastern Ukraine, a claim it vehemently denies.
But others suggest that a flurry of recent official statements may signal Moscow's desire to avoid escalating the crisis any more.
"If Ukraine pushes further and, say, enters Donetsk then President Putin will have to respond, and that's a dilemma," argues Dmitry Trenin, head of the Moscow Carnegie Centre.
"If he tries to reverse the situation, that will mean a far greater military involvement, and that could be disaster. It's not what he wanted," Mr Trenin argues.
In such a scenario, abandoning the pro-Russian separatists to their fate is not an option for Russia's president. For months, Moscow has accused a "fascist" government in Kiev of conducting a "punitive" operation - even genocide - against Russian speakers in Donetsk and Luhansk.
That message is hammered home daily by state-controlled television, which portrays patriotic rebel warriors alongside helpless civilians under attack by indiscriminate Ukrainian artillery. The fact that insurgents frequently fire from residential areas is never mentioned.
Formally, Moscow advocates "special status" for the occupied regions of eastern Ukraine, a pro-Russian enclave within a united Ukraine.
But Russia-watchers have suggested that the real goal is another frozen conflict: an open sore for Moscow to prod and stir when required, and so retain influence over Kiev.
But for Ukraine's authorities, who have already seen Crimea annexed by their neighbour, territorial integrity and sovereignty are key.
President Petro Poroshenko vowed again this weekend not to cede another "scrap" of Ukrainian soil.
The key battleground for now is Donetsk airport. Although its value now is little more than symbolic, whoever controls it claims supremacy.
So when pro-Russian forces suddenly pushed forward there last week to seize new ground, Kiev hit back with similar force.
The editor of Russia in Global Affairs, Fyodor Lukyanov, believes Ukraine is demonstrating renewed energy for a fight, manoeuvring to strengthen its hand at any future peace talks.
"The Minsk process took place because Kiev was almost defeated," he argues, referring to the September ceasefire deal signed last September. "It couldn't continue fighting."
Since that truce, more than 1,400 people have been killed.
"But the worst thing for Russia is if Kiev continues to try to settle this by military means. Russia will be forced to respond militarily, and that would be a disaster for everyone," Mr Lukyanov warns.
Last week, a former Russian prime minister from the late 1990s raised the rhetorical question of sending regular troops to Ukraine - openly, not furtively - should Kiev pushed on with its offensive.
Yevgeny Primakov ultimately warned against such a move, but some suggest he would not have raised the option had voices close to President Putin not been advocating it.
Putin's 'olive branch'
Then, very late on Sunday night after a day of heavy clashes around Donetsk, the Kremlin revealed that President Putin had extended an apparent olive branch. On Thursday, he had written to President Poroshenko offering a "concrete timetable" for implementing the existing peace plan.
Russia's president clarified that Moscow accepted a ceasefire line in Ukraine set by Kiev and was prepared to use its influence on the rebels to pressure them to withdraw their heavy weaponry.
The contact line, as it is known, was established last September based on the position of forces at that moment. But continued conflict ever since has altered positions, and opened its location to hot dispute.
"Maybe Russia is ready to put pressure on the rebels now, to get them to stick to the Minsk deal even though many have said they are not happy with it," suggests Mr Lukyanov, seeing a possible concession here by Moscow.
That has yet to be proved.
Meanwhile, there has been markedly little progress on other major issues including re-establishing Ukrainian control over a long stretch of its border with Russia, the alleged entry route for fighters and weapons.
A Russian foreign ministry spokesperson said that issue was being addressed, as part of the Minsk process.
But the process has evidently stalled.
On Wednesday evening the foreign ministers of Ukraine and Russia - as well as Germany and France - will meet again in Berlin, to discuss how to enforce the Minsk deal.
With civilian casualties mounting, the need for progress is urgent.
Meanwhile pro-Kiev troops and insurgents continue to battle for control of the shattered, empty shell of Donetsk International Airport.
We may never know exactly how many lives have been lost in the ruins at the heart of the Ukraine conflict.