Ukraine accuses Russian troops of attacking its forces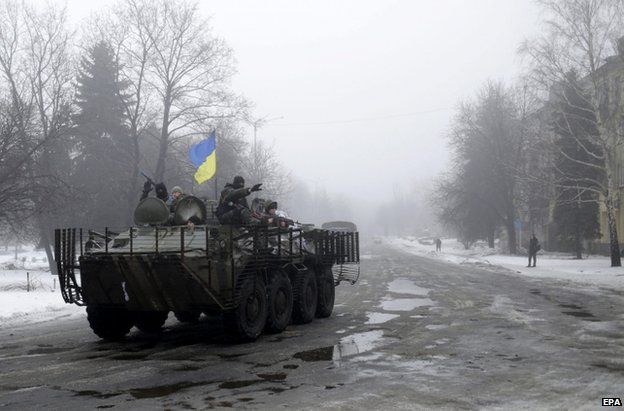 The Ukrainian military has accused Russia of attacking its forces as fighting in eastern Ukraine spreads towards the Russian border.
Military spokesman Andriy Lysenko said regular Russian units had attacked in the Luhansk region, much of which is under pro-Russian rebel control.
Heavy fighting was under way near the town of Slovyanoserbsk, he said.
Russia denies sending troops into Ukraine but acknowledges "volunteers" are fighting for the rebels.
There has been no independent confirmation of the latest Ukrainian allegation.
Meanwhile Ukrainian President Petro Poroshenko cut short his visit to the World Economic Forum in Davos, Switzerland, to return home in view of the "worsening situation" in the east, his spokesman said.
The Vienna-based Organization for Security and Co-operation in Europe (OSCE), which has monitors deployed in Ukraine, has called for an immediate ceasefire.
More than 4,800 people have been killed and some 1.2 million have fled since the rebels took control of parts of Luhansk and Donetsk in April.
Fighting flared up again last week as the rebels fought the Ukrainian government for control of the ruined airport at Donetsk.
Two civilians were killed in the rebel-held city on Tuesday when a shell exploded at a bus stop.
Some 5.2 million people live in conflict-affected areas and 1.4 million are considered "highly vulnerable and in need of assistance"
More than one million people have fled their homes with 633,523 living as displaced persons within Ukraine and 593,622 living outside Ukraine, mostly in Russia
More than 4,800 people have been killed in the fighting and at least 10,322 have been injured including at least 102 children
Speaking at a specially convened news conference, Mr Lysenko said: "Ukrainian military units were attacked in the north of the anti-terrorist operational zone by regular military formations of the armed forces of Russia.
"Heavy fighting is continuing near [Ukrainian army] checkpoints 29 and 31," he said, referring to the area around Slovyanoserbsk, 32km (20m) north-west of Luhansk.
He said that Ukrainian forces had stopped the alleged Russian advance and controlled the area but the situation was "serious".
Moscow has denied Ukrainian reports on Monday that it had sent soldiers into Luhansk to bolster the rebels.
Russian defence ministry spokesman Maj-Gen Igor Konashenkov dismissed those reports as "hallucinations about a 'Russian invasion'".
In a declaration adopted at an emergency meeting, the OSCE called for the Minsk peace plan agreed in September to be implemented.
In a rare sign of unity, all of the OSCE's states, including Russia, Ukraine, the US and EU states signed up to the declaration, the BBC's Bethany Bell reports from Vienna.
Russia's ambassador to the OSCE, Andrei Kelin, told the BBC Moscow was working hard to bring about a settlement.
On Monday, OSCE observers told the BBC that fighting around Donetsk airport was spreading further into the city. A spokesman said that their greatest concern was for civilians, especially children.