M1 motorway in County Louth: Toxic sludge leaking from trailer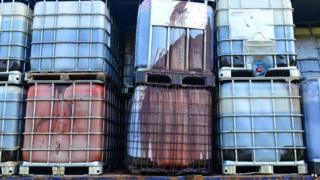 Toxic sludge that is believed to have resulted from illegal diesel laundering is leaking from a trailer abandoned on the M1 motorway in County Louth.
The trailer is holding around 38 large plastic cubes of the sludge.
Some of them are leaking onto the motorway side of the trailer.
It was discovered in a layby on the north bound carriageway on Wednesday evening, close to the junction for Jonesborough and Carrickcarnan.
This is a short distance south of the border with Northern Ireland.
Specialist contractors working for Louth county council are expected to transport the trailer to a secure yard where the waste will be removed later.
The contractors are using an absorbent material on the leaked sludge and there is not believed to be any impact on traffic or the road.
The council has estimated that it has removed 9,000 litres of the sludge so far this month, excluding the trailer.
'Dumped'
A spokesman for Louth county council said that last year it cost "approximately 650,000 euros (£498,000) to clean up diesel oil laundering sludge compared to 780,000 euros (£597,00) in 2013".
"There were 106 incidents of diesel oil sludge being dumped in 2014 and 105 incidents in 2013," he said.
Earlier this week, councillors in Louth passed a motion condemning "the IRA and all fuel smugglers along the border".
This week, the county council issued a statement assuring people the drinking water was safe after it was reported by the Sunday Independent that sludge was going into the source of the public water supply for Dundalk.