Syriza Greece election result pleases Sinn Féin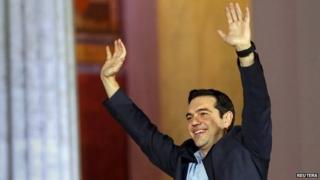 Sinn Féin is taking heart from the victory of the anti-austerity Syriza in the Greek election.
Gerry Adams said the "election result signals a victory of hope over fear" and "opens up the real prospect of democratic change not just for the people of Greece, but for citizens right across the EU".
Both Sinn Féin and Syriza are calling for a European debt conference to discuss the possibility of the Eurozone's creditors taking some kind of a "haircut".
Sinn Féin's backing for Syriza isn't an overnight phenomenon.
Back in March last year, when he was standing as a left wing candidate for president of the European Commission, Syriza leader Alexis Tsipras visited Dublin and toured the city's north side in the company of Sinn Féin politicians.
Then in May Mr Tsipras described Gerry Adams' arrest for questioning about the murder of Jean McConville as a "provocative initiative".
Expect Sinn Féin and other anti-austerity parties in Dublin to use the Syriza victory to target the Fine Gael/Labour coalition in the next few weeks over what they portray as its timid handling of Ireland's creditors.
Equally others may accuse Sinn Féin (as they did on my Twitter feed overnight) of compromising their anti-austerity stance by signing up to welfare reform, public sector voluntary redundancies and cuts in business tax as part of the Stormont House Agreement.
Either way, the next couple of years should establish whether Syriza's policies represent a new radical way forward for Europe's debtor nations or lead Greece into even more dire financial straits. Whatever happens in Greece, good or bad, is certain to inform the debate back in both Dublin and Belfast.