European papers ponder 'historic' Syriza victory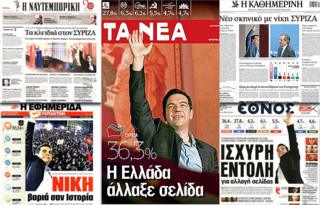 Greek newspapers carry dramatic headlines after the Syriza party swept to victory. Many pro-leftist newspapers hail the win as a historic chance for Greece to take charge of its own future. Right-of-centre papers see it as punishment for the outgoing government's austerity policies.
Syriza's victory reverberates across Europe, especially in Spain and Portugal - where left-wing parties are also expected to make gains in elections later this year - and Germany, where, perhaps surprisingly, several commentators suggest the new course in Athens should not necessarily spell the end for the eurozone.
'Historic' victory for Left
"Victory, heavy as history," declares a headline in the left-of-centre I Efimerida Ton Syntakton; "Landmark victory for Greece" reads a headline in the leftist I Avyi, "Greece has turned the page" says left-of-centre Ta Nea; "New scenery with Syriza win," says a headline in the independent I Ikathimerini.
For the centre-right Democracy daily, the result is "a strong punishment from the middle class" for the outgoing governing party which "had chosen to turn its back on social rage."
To Vima warns Syriza leader Alexis Tsipras that the Greek people are giving him a "mandate and not a blank cheque" and urges him to seek consensus.
Several dailies argue that Syriza's victory is a milestone for the left in Europe.
Syriza's victory is "the first electoral no" to the current bailout policies and "the first political yes" for alternative policies, says Ta Nea.
"Today Syriza, tomorrow Podemos," says an editorial in I Avyi in reference to Spain's left-wing Podemos party, a close ally of Syriza which is expected to win or come second in the elections later this year.
In Spain itself, however, there the right-wing La Razon is less impressed. A front-page headline reads: Desgrecia - a play on the word disgrace - and says Greece has succumbed to "populism".
But the centre-left El Pais says Greece still has a great deal to celebrate as Syriza was able to "channel" social discontent which threatened to tear the country apart, and to turn it in its favour.
In Portugal - which also goes the polls this year - Diario do Noticias says it was wrong of the EU and IMF to demand that the Greek people continue to put up with the "inhumane, stupid and arrogant" policies imposed by the bailout, but warns that Syriza's victory does not exonerate Greece of its responsibilities.
Why shouldn't Greece be given a chance to restructure its debt, asks David Pontes in Jornal de Noticias, noting that Germany had 50% of its debt forgiven in 1956.
'Somersault'?
In Germany - which has often been accused by Greeks of imposing harsh terms for the bailout - the popular Bild daily carries a headline: "Greeks elect the Euro-horror". Other papers, however, appear somewhat sympathetic to the challenges facing the new leader.
Christian Rickerts writes in Der Spiegel that the new leader should be given a chance.
"Perhaps Tsipras will have the courage to tackle the Greek shipping and media magnates and get the tax revenue he needs for this welfare programmes," he adds.
Writing in Frankfurter Allgemeine Zeitung, Nikolas Busse warns "Tsipras won't able to get past one fact: Greece continues to need foreign money, be it from the financial markets or the EU. He has to choose between compromise with the troika and a major state bankruptcy."
Despite his carefully-honed image as a "rebel", Mr Tsipras may now have to follow his brilliant victory "with what the Greeks call a 'kolotumba' - a somersault", says Christiane Schloetzer in Sueddeutsche Zeitung.
And in Die Welt, Silke Muelherr suggests that after all "Tsipras may not be the worst candidate to lead Greece down the right path" as "even the Greek voters do not believe that Tsipras will seek a showdown with international creditors".
"Europe's new face"
Elsewhere in Europe, France's left-leaning Liberation headlines its front page "Europe's new face", with a photo of Tsipras. It says Syriza's victory "opens up new prospects for the country and gives hope that European austerity policies will be eased."
But the centre-right Le Figaro strikes a more sceptical tone, saying that Greece's "radical left" now faces a "reality check".
In Italy, centrist La Stampa urges the EU and IMF to compromise over the terms of Greece's bail-out, warning that what it calls "Germany's fiscal dogmatism" could do more harm to Europe than Greece's debts.
And La Repubblica reports on the "explosion of joy" at Syriza's headquarters after the exit polls were announced, with a video of the crowd's rendition of "Bella Ciao" - a popular song of the Italian left - featuring prominently on its website.
BBC Monitoring reports and analyses news from TV, radio, web and print media around the world. You can follow BBC Monitoring on Twitter and Facebook.