Michael d'Alton: Irish World War Two veteran gets top French honour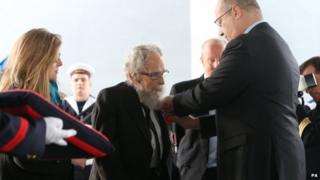 An Irish D-Day veteran has dedicated the award of France's highest honour to all those who took part in the landings.
Michael d'Alton, 93, received the Legion d'Honneur on board the French navy ship Somme in Dublin Port on Monday.
It was in recognition of his role at Omaha beach on 6 June, 1944.
The former sub-lieutenant steered a landing craft to Normandy.
He joined an elite group of Irish men to receive an award created by Napoleon, and France's highest honour, civil or military.
"I think the fact that this award is being awarded to me is indicative of the fact that there were tens of thousands of others who landed on the beach in France that day and other days, it's on their behalf," he said.
"Also I think I would say a word for those who have survived the 70 years since D-Day, as I've been lucky enough to do, and I'd send my commemorations to them too."
Mr d'Alton was tasked with bringing Sherman tanks across to Omaha beach in the American sector.
'Inspired film'
The craft of which he was second in command beached on top of a Teller mine and he had to watch a tank crew drown after they disembarked from a landing craft on the edge of a large underwater hole.
"I went because Hitler had to be stopped," Mr d'Alton said.
"He was the greatest menace on the earth at the time. I think there was a duty bound on every man, woman and child to assist."
Mr d'Alton was a sailor from a young age and joined the Royal Navy to fight with the Allied forces.
At the ceremony on Monday, he was flanked by his son Mark and daughter Sonda as the Legion d'Honneur was pinned next to his service medals.
He returned to Omaha, the beaches that inspired the opening scenes in Saving Private Ryan, in 2002, after his daughter moved to France.
Ms d'Alton said: "When you have had a subject that has been taboo... For 50 years my father never, ever spoke about the war, until a newspaper article.
"I think it's important for people to talk about any trauma and a good thing that he talks about it now, in factual terms, which is also very normal."
Appeal
Jean-Pierre Thebault, French ambassador to Ireland, revealed Mr d'Alton's story might have remained hidden but for the US military archives recording his role.
The award to Mr d'Alton follows a ceremony last month, when the late Pat Gillen, from Cork, was also honoured with the Legion d'Honneur for his role in the D-Day landings with the commando unit.
Others are planned if veterans are found, officials in the French embassy in Dublin said.
Mr Thebault appealed for other veterans to come forward to be recognised.
"It's not only an honour to the person Michael d'Alton, it's also a way to say to all the Irish veterans of the Second World War who fought in France and for France to say please let us know who you are, all over Ireland, because we would like to distinguish you for your service," he said.