Ukraine conflict: EU weighs more sanctions on Russia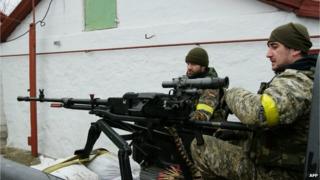 EU leaders have asked their foreign ministers to consider imposing further sanctions on Russia in response to the continued fighting in Ukraine.
A statement said the ministers, who will meet on Thursday, should "consider any appropriate action, in particular on further restrictive measures".
It urged Russia to observe last September's Minsk ceasefire deal, which has been ignored amid clashes between Ukraine's army and pro-Russian rebels.
More heavy shelling has been reported.
The Ukrainian military said nine of its soldiers had been killed in the past 24 hours as fighting raged at several points in eastern Ukraine.
The military, quoted by Ukraine's Unian news agency, said there had been heavy rebel mortar and artillery fire near the town of Debaltseve and the village of Luhanskaya.
---
At the scene: Sarah Rainsford, Artemivsk, government-held eastern Ukraine
In the towns and villages close to east Ukraine's frontline, it is quite clear that the ceasefire - always fragile - is now over.
Artemivsk is the last big town before Debaltseve where there have been heavy clashes for several days.
In just a few minutes on Tuesday, we saw a young woman carried into the local hospital unconscious, with shrapnel wounds, and a volunteer fighter was stretchered in by his friends in fatigues soon after.
Staff told us they are coping with the sudden influx. But getting supplies isn't easy these days. Nor is working with the now constant thump of shelling nearby.
Locals didn't expect things to get this bad. Now, they fear the fighting will intensify. And as we left town, we saw a long column of military vehicles flying Ukraine's blue and yellow national flag heading towards the frontline.
---
Ukraine's parliament meanwhile approved a resolution defining Russia as an "aggressor state".
The resolution, backed by 270 MPs out of 297 in the Verkhovna Rada, also declared the rebels' self-styled "people's republics" in Donetsk and Luhansk to be "terrorist organisations".
It used very different language from the Minsk ceasefire deal, which had envisaged wider self-rule for Donetsk and Luhansk within Ukraine.
More than 5,000 people have been killed in fighting since the rebels seized swathes of the Donetsk and Luhansk regions last April, according to UN estimates. More than a million people have been displaced.
EU foreign ministers decided to hold an extraordinary meeting on Thursday after rockets were fired at the weekend on the outskirts of Mariupol, a key port city held by Ukrainian government forces. Kiev accused the rebels of killing 30 civilians in the attack.
Under EU procedures, the ministers could ask the European Commission to draw up further sanctions, which would then go before the EU heads of state and government for approval. An EU summit is scheduled for 12 February.
Nato Secretary General Jens Stoltenberg has urged Russia to stop providing military support to the rebels.
Nato and Kiev accuse Moscow of regularly sending troops and heavy weapons to help the rebels - something it has repeatedly denied.
---
Ukraine: the human cost
Some 5.2 million people live in conflict-affected areas and 1.4 million are considered "highly vulnerable and in need of assistance"
More than a million people have fled their homes, with 633,523 living as displaced persons within Ukraine and 593,622 living outside Ukraine, mostly in Russia
More than 5,000 people have been killed in the fighting and more than 10,300 injured
Sources: UN report of 9 January for refugee figures; news reports for casualty estimates
---
Are you in Ukraine? Have you been affected by recent events? You can share your experiences by emailing haveyoursay@bbc.co.uk.
If you would be happy to speak further to a BBC journalist, please include a contact number.