Kosovo police clash with crowd at protest over minister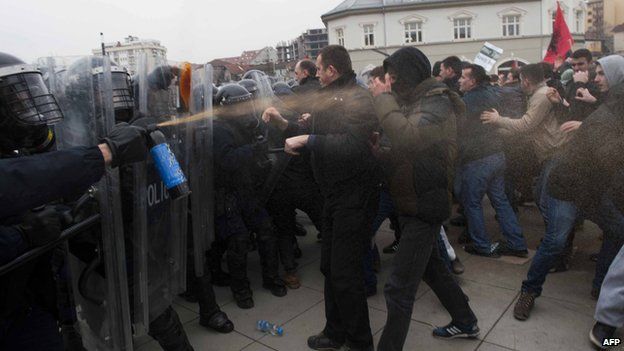 Police in Kosovo have used tear gas and water cannon against thousands of ethnic Albanians protesting in Pristina against a Serb minister.
Some protesters hurled stones at police during what was the second eruption of violence in the capital in recent days.
They called for Communities Minister Aleksandar Jablanovic to quit, after he called some ethnic Albanians "savages" for trying to block a Serb pilgrimage.
There are three ethnic Serb ministers in Kosovo's government.
Twenty-two police officers and at least 15 protesters were injured in Tuesday's clash.
Reports say Albin Kurti, leader of the Albanian nationalist Self-Determination movement, was among the injured.
Mr Jablanovic has publicly apologised for the comments he made about ethnic Albanians when condemning those had tried to prevent a visit by Serbian pilgrims to a monastery in western Kosovo for Orthodox Christmas.
According to the ethnic Albanians, some of the Serbs were responsible for war crimes during Serbia's war against Kosovo in 1999.
The latest violence has also been fuelled by a dispute over the future of a mine complex at Trepca, in Mitrovica. Kosovo's government has hesitated to nationalise the mine complex, as Serbia claims ownership of the site.
Kosovo unilaterally declared independence from Serbia in 2008.
It has an EU law and order mission - Eulex - to supervise its institutions, and has been recognised by the US and most EU countries.
Serbia, Russia and China are among the countries that refuse to recognise Kosovo.
Nato occupied the breakaway province in 1999 after a bombing campaign against Serb forces, who were accused of war crimes.