Ireland's An Post returns Santa letter to three year old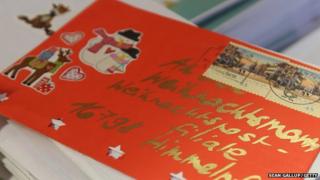 Ireland's post office has apologised after a three year old's letter to Santa was returned with a sticker marked "insufficient address".
The letter's reappearance prompted awkward questions in the household of Alan Campbell, a Dublin publican.
He said that after he complained on Twitter, An Post got in touch to say they are launching an investigation into the incident.
An Post said it "helped Santa" reply to 140,000 letters this Christmas.
Mr Campbell's eight-year-old daughter found her younger sister's returned letter two weeks ago.
She started asking questions about why her own letter and that of another sister had made it to Lapland but her little sister's did not.
The envelope had been addressed: "Santa Claus, Santa's Grotto, Lapland, The North Pole."
'Shouldn't have happened'
"Luckily for us we had visited Santa in Dundrum a few days before we posted the letter so he knew what they wanted, and that's how Santa came," Mr Campbell said. "In that sense it's all's well that ends well."
An Post said it had offered to send a "very special letter" to Mr Campbell's daughter in recompense, but the offer was turned down.
The postal service said it was "very upset" by the incident.
"It simply should not have happened. It is as simple as that. No excuses," The Irish Examiner quoted the company as saying in a statement.
"Since learning and discussing the issue in more detail with the child's father, an investigation is under way," it said.