E-cigarettes could be banned in Irish bars under new law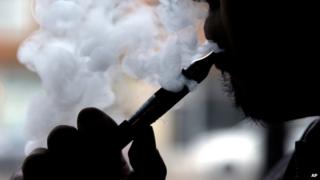 Electronic cigarettes could be banned from bars, restaurants and workplaces and made illegal for under-18s, under proposed new laws in Ireland.
Like any other tobacco products they would also be subject to bans on advertising and sponsorship,
Two senators have introduced the bill to tighten regulations on e-cigarettes in the Republic of Ireland.
They are already banned in hospitals and health centres.
Cancer specialist Professor John Crown, who is also an Irish senator, said there are "risks specific to e-cigarettes that don't emerge for traditional cigarettes.
The independent senator said e-cigarettes which have wicks that over-heat the fluid can produce dangerous levels of volatile chemicals.
"Poor construction can lead to the inhalation of nickel and lead alloy particles," he added.
'Harmful toxins'
"Meanwhile the material that the wick is constructed from may open users up to health problems like silicosis."
Under the proposed legislation, which would have to pass a number of stages before being enacted, Ireland's Health Service Executive (HSE) would be charged with monitoring emerging scientific evidence on e-cigarettes and tweak the law accordingly.
Last year, the HSE banned the use of the devices in all hospitals and health care centres, saying they had no evidence on their long term safety.
Averil Power, a Fianna Fail senator who is also behind the bill, said e-cigarettes may not be as harmful as tobacco and might help people to quit smoking, but warned there were a number of concerns about them.
"Users need to be aware that they contain harmful toxins that are damaging to their health," she said.
"Bystanders, particularly children, deserve to be protected from the passive inhalation of e-cigarette vapour."