Ukraine conflict: Russia lets 'spy mother' leave jail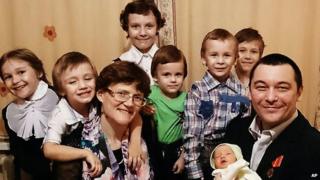 A mother of seven held in Russia over alleged spying for Ukraine will be released from custody, a lawyer says.
The news came shortly after the Kremlin said Russian President Vladimir Putin would consider her case.
Svetlana Davydova, 36, was arrested last month in the town of Vyazma, western Russia. Her young children include a baby just a few months old.
The treason accusation against her still stands. She can go home, but she is not free to travel elsewhere.
Lawyer Ivan Pavlov, acting for Ms Davydova, told bbcrussian.com that a Federal Security Service (FSB) officer had explained the conditions of her release.
She has been held at the FSB's high-security Lefortovo prison in Moscow.
Some 40,000 Russians signed a petition urging President Putin to release her. Russian cultural celebrities were among the petitioners.
Her husband Anatoly Gorlov refused to give a statement to the FSB. "I didn't say anything, didn't sign a declaration, because the declaration described me as a witness - and I don't want to be involved in the case as a witness," he told the BBC.
If found guilty of treason she faces a prison term of up to 20 years.
It is alleged she phoned the Ukrainian embassy last April to report that Russian soldiers had left the military base in Vyazma.
She told them she had overheard a soldier's conversation suggesting that the troops were being sent to Ukraine, it is alleged.
Russia denies accusations by Nato, Western politicians and the Ukrainian government that it has regular troops in eastern Ukraine fighting alongside the pro-Russian rebels.
Russia is also accused of sending heavy weapons including tanks and rockets to the rebels, who began an armed uprising against the Kiev government in April. The previous month, Russia annexed Ukraine's Crimea peninsula.