Strauss-Kahn trial hears of lunchtime sex parties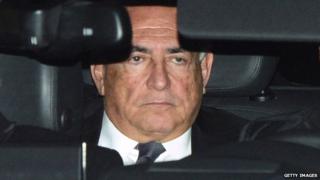 A former prostitute nicknamed Jade has given evidence at the trial of Dominique Strauss-Kahn, describing "classy" lunchtime sex parties.
Mr Strauss-Kahn appeared in court in the northern French city of Lille for a second day facing charges of pimping.
He is one of 14 defendants in the trial over an alleged prostitution ring centred on the city's Carlton Hotel.
He admits taking part in orgies but steadfastly denies knowing that women involved were prostitutes.
The case has been dubbed the "Carlton affair" after the hotel.
'Forced into prostitution'
Jade burst into tears several times as she told the court how she had been forced into prostitution to support her two young children after her divorce.
She told how Rene Kojfer, a former public relations manager for the Carlton, and Dominique Alderweireld, a Belgian brothel owner known as Dodo the Pimp, had allegedly arranged for her to attend lunchtime sex parties at apartments in Lille.
When Judge Bernard Lemaire asked her directly what the two paid her for, she replied: "Well, I wasn't there doing the cleaning."
Jade described the lunchtime parties as "classy", with men and women pairing off. During the investigation, she had described how a similar party involving Mr Strauss-Kahn was "carnage with a heap of mattresses on the floor".
Mr Kojfer, 74, who also gave evidence on Tuesday, is accused of providing local businessmen and police officials with prostitutes.
Jade told the court that Mr Kojfer had once handed her cash directly for her work. In other cases, she said, the bill had been settled by Mr Alderweireld.
She also said Mr Kojfer had paid the women involved much less than promised, telling them "times are hard".
"But we got a free bathrobe," she added.
Prosecutors in the trial allege that Mr Kojfer and Mr Alderweireld were part of a ring of businessmen in the city of Lille which supplied prostitutes for sex parties in Paris, Lille, and Washington.
Mr Kojfer denies aggravated pimping, claiming that he simply introduced friends to prostitutes that he knew.
In the wake of the allegations against Mr Strauss-Kahn, Mr Alderweireld renamed one of his clubs DSK, insisting that it stood for Dodo Sex Klub, but was forced to change the name again after the former IMF head took him to court.
Mr Strauss-Kahn denies knowing either Mr Alderweireld or Mr Kojfer. He has admitted attending group sex parties but denies knowing that the women were prostitutes, arguing that it was impossible to tell given that the women were naked.
"I challenge you to tell the difference between a naked prostitute and a naked woman of the world," said Mr Strauss-Kahn's lawyer Henri Leclerc in 2011.
The trial in Lille, which takes place before a judge rather than jury, is expected to take around three weeks, with Mr Strauss-Kahn due to take the stand on 10 February.
If found guilty, the former IMF chief could face up to 10 years in prison and a fine of 1.5m euros (£1.13m).
Mr Strauss-Kahn's career prospects once included president of France. Those prospects collapsed in 2011 when he was accused of sexual assault by a maid in a New York Hotel.
He stepped down from the IMF over the accusation and the charges were eventually dropped. He later reached a settlement with the maid, Nafissatou Diallo.
---
Dominique Strauss-Kahn
Born 25 April 1949 in Paris
Attended France's prestigious Institute for Political Studies (Sciences Po)
Becomes finance minister in 1997
Loses bid for Socialist Party presidential candidacy to Segolene Royal in 2006
Selected IMF head in 2007
Resigns as IMF head in May 2011 to defend charges of attempted rape. Prosecutors drop the charges later that year
Signs undisclosed settlement with hotel maid in December 2012
Goes on trial for aggravated pimping in February 2015