Ukraine crisis: Nato bolsters Eastern Europe against Russia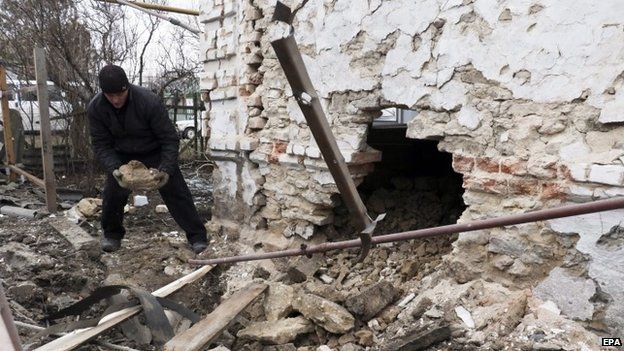 Nato is to bolster the alliance's military presence in Eastern Europe in response to increased fighting in eastern Ukraine between government forces and pro-Russia rebels.
Six bases are being set up and a 5,000-strong "spearhead" force established.
"Our core responsibility is to keep our nations safe, and that is exactly what we are doing," said Nato chief Jens Stoltenberg.
The move comes amid a fresh push for peace in Ukraine.
Mr Stoltenberg said the steps are being taken in response to the "changed security environment".
They are seen as a deterrent against any Russian threat to the Baltic states or other bloc members should the crisis in Ukraine spin out of control.
Russia denies accusations by Ukraine and the West that it is arming rebels in eastern Ukraine and sending regular troops across the border.
The six bases are being set up in Estonia, Lithuania, Latvia, Poland, Romania, and Bulgaria.
France, Germany, Italy, Spain, Poland and Britain are taking the lead in establishing the new rapid reaction "spearhead" force, with its lead units able to deploy at two days' notice.
Analysis: Jonathan Marcus, BBC diplomatic correspondent
Nato sees its actions as entirely defensive - but this is not the way they will be seen in Moscow.
Indeed their fundamentally different perceptions of the Ukraine crisis is what is driving the wider rift between Russia and the West.
Nato's wider actions - it also plans to open a training centre in Georgia and support for the reform of Ukraine's military - all ring alarm bells in Moscow.
Tensions could get worse still if the US or other Nato allies move to arm the Ukrainian military.
This is not a Nato issue as such but something for national governments, and everyone is watching the course of the evolving debate within the Obama administration.
Mr Stoltenberg said it will be the biggest reinforcement of its collective defence since the end of the Cold War.
Meanwhile French President Francois Hollande and German Chancellor Angela Merkel have visited the Ukrainian capital Kiev to present a new peace initiative. They are due to travel to Moscow on Friday.
US Secretary of State John Kerry is also in Kiev, and said President Obama was still "reviewing all options", including the possibility of providing "defensive weapons" to Ukraine.
The US has so far only provided "non-lethal" assistance to Ukraine.
Mr Stoltenberg said it was "up to different allies to decide" whether to arm Ukraine.
Fighting has intensified in recent weeks and the frequency of indiscriminate shelling in civilian areas has increased, according to the OSCE monitoring group.
More than 5,000 people have been killed in the conflict since it began last April.