116 puppies seized at Dublin Port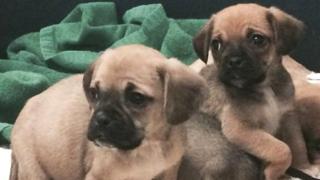 One hundred and sixteen puppies have been seized at Dublin Port in an ongoing operation.
The puppies are aged between five to eight weeks. It is believed they were being taken to Britain without the necessary paperwork.
The operation involved police, customs and the Dublin Society for the Prevention of Cruelty to Animals (DSPCA). No arrests have been made.
The puppies are currently being looked after by the DSPCA.
It said it was the first case involving a large number of companion animals to be seized under the new Animal Health and Welfare Act 2013.
Agriculture Minister Simon Coveney welcomed the seizure, calling for strict enforcement of animal welfare legislation.