Bosnia village searched after jihadist flags pictured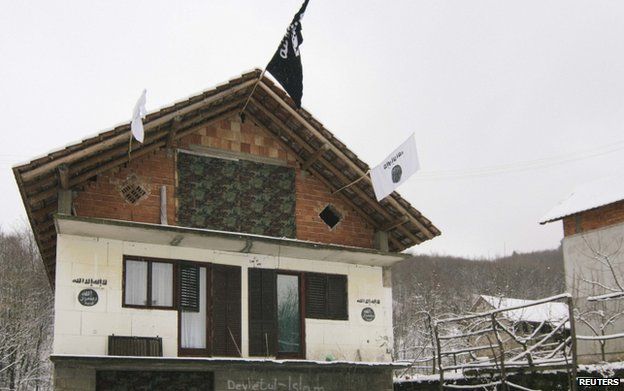 Police in Bosnia have searched a village in the north-east of the country after a local television station showed pictures of jihadist flags from some houses.
A police spokesman said the flags had been removed from Gornja Maoca before the officers arrived.
Many residents follow Wahhabism, a strict branch of Sunni Islam.
More than 150 Bosnians have gone to fight with jihadist groups in Iraq and Syria, according to local media.
Images showed black flags - similar to those of the Islamic State (IS) group - flying from several homes in the village, and symbols painted on a wood shed.
Police arrived on Thursday to investigate but "IS flags were not found", according to a statement.
It is not clear who put up the banners.
Bosnia's Muslim community has condemned those leaving to fight for jihadist groups in Iraq and Syria.
The country passed a law last April introducing prison terms of up to 10 years for convicted Islamist radicals and their recruiters.