Italy policeman charged with 'couchsurfing' rape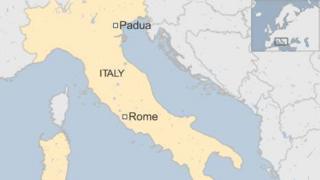 An Italian policeman has been accused of using the website Couchsurfing.com to lure a teenage woman to his home and then raping her.
Dino Maglio, 35, will stand trial on charges of both drugging and raping the 16-year-old Australian, prosecutors say.
They say he admitted giving the girl a sedative and having sex with her.
Claims by more than a dozen other women who say they were victims of similar attacks are now being investigated.
Mr Maglio, who used the name Leonardo on his Couchsurfing.com profile, is accused of attacking the 16-year-old at his home in Padua, in northern Italy, last year while she was travelling with her mother and sister.
Mr Maglio is being held in a military prison and is due to go on trial in March on charges of raping a minor with the aggravating circumstance of having administered a narcotic without her knowledge, the Agence France-Presse news agency quoted prosecutors as saying.
'Could have been us'
Police are also investigating several other cases after 14 women made statements about similar incidents to the Investigative Reporting Project Italy (IRPI).
"Three of the women - all Czech nationals - have so far filed rape charges and we are looking at the evidence presented by the other women," a judicial source told AFP.
Couchsurfing.com is a social networking site that puts tourists in touch with hosts who are willing to put them up for free.
Its chief executive, Jennifer Billock, said users' safety was a top priority and that it was working to stop abuse.
"We're reminded that these women could have been any of us, our friends or family," she told British newspaper the Guardian.
The alleged attacks came to light after women connected on the website and shared their experiences, reports say.
Police chiefs say Mr Maglio has been suspended from duty.