Gauguin painting breaks sale record at nearly $300m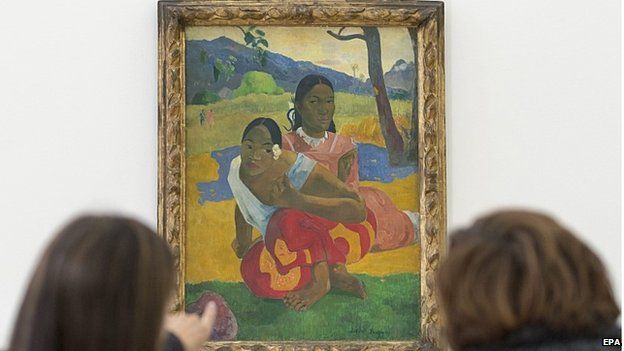 A painting of two Tahitian girls by the French artist Paul Gauguin has been sold for $300m (£197m), making it the most expensive work of art ever sold.
Nafea Faa Ipoipo, or When Will You Marry?, was painted in 1892 and had been owned by a Swiss collector.
Unconfirmed reports suggest it was sold to a museum in Qatar.
The small oil-rich state paid the previous highest price for a painting, a work by Paul Cezanne which sold for a reported £158m.
Before its sale, the Gauguin artwork had been owned by Rudolf Staechelin, a collector from Basel.
For decades it had been on loan to the Kunstmuseum Basel but Mr Staechelin decided to sell the painting after a disagreement with the museum, US media report.
Some of the most expensive paintings
Paul Cezanne - The Card Players £158m - Before the Gauguin sale, this was believed to be the most money paid for a painting. Also purchased by Qataris, it fetched a reported £158m in 2011.
Francis Bacon - Three Studies of Lucian Freud £89m- The triptych is considered one of Bacon's greatest masterpieces. It sold after six minutes of fierce bidding in November 2013, according to auction house Christie's.
Edvard Munch - The Scream £74m - Perhaps one of the world's most famous images, The Scream went on sale in May 2012, sparking a 12-minute bidding war. By the end, the privately-owned pastel, one of four in a series by the Norwegian, had been sold for £74m.
Gustav Klimt - Portrait of Adele Bloch-Bauer £73m - According to The New York Times, the Neue Galerie paid £73m for the oil painting in a private sale in 2006. It had been looted by the Nazis during World War Two, before being returned to Ms Bloch-Bauer's heir in 2006.
Jackson Pollock - No. 5 £73m - Pollock's famous drip-and-pour painting was sold for a then record £73m, also in 2006, according to The New York Times. Reports said US media magnate David Geffen sold the 4ft by 8ft work to Mexican financier David Martinez.
Pablo Picasso - Nude, Green Leaves, and Bust £65.5m - Considered amongst Picasso's greatest post-war paintings, it sold at auction in New York in 2010 for £65.5m.
It was not immediately clear where the sale had taken place.
However the paper, which first reported the sale, quoted sources saying the painting had been sold to Qatari buyers.
Officials in Qatar have not yet confirmed the purchase.
The sheikhdom's royal family has in recent years spent vast amounts of money on Western art.
Sheikh Saud bin Mohammed Al-Thani, a former minister of culture who died last year, lavished more than $1bn of the country's money on artworks.
Qatar sponsored a 2012 Damien Hirst retrospective in the UK which later moved to the country's capital Doha, and has invested large sums of money financing museums of Islamic and modern Arab art.