Joan Burton protest: Socialist Party TD Paul Murphy released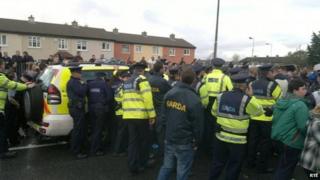 An Irish member of parliament who was arrested over an anti-water charges protest that trapped the deputy prime minister in her car has been released.
Tánaiste Joan Burton's car was unable to move for two hours after anti-water charge protesters prevented her leaving an event in Dublin in November.
Socialist Party TD Paul Murphy was released without charge.
The Irish coalition government faced widespread protests against the introduction of domestic water charges.
Tens of thousands of people took part in nationwide marches to oppose the measure.
The controversial austerity measure is a key part of the government's plan to pay back the international financial bailout the state had to seek in 2010.
About 100 protesters were involved in the incident at Jobstown, south-west Dublin.
The protesters chanted "we won't pay" and some chased after the minister as she was eventually driven away in an unmarked police car.
On Monday, Mr Murphy was one of four people arrested and questioned over the protest.
Socialist Party spokesman Dave Murphy said two Anti-Austerity Alliance councillors on South Dublin County Council were among those detained.
He said Paul Murphy was arrested at his home in Ballinteer, councillor Kieran Mahon was arrested at his home in Tallaght, while Mick Murphy was arrested while on his way to work.
"This was done at seven in the morning, with teams of five and six gardaí [police] turning up at their house," he said.
"It is part of political policing, to try and damage the anti-water charges movement and to portray protesters as criminals."