Fr Pierre 'Jalapeno' Pepper primed to pack a punch for charity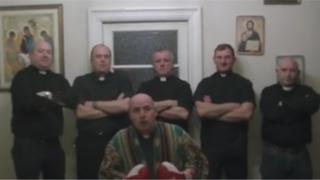 The punching priest may sound like a character from TV comedy Father Ted.
But one Irish clergyman is hoping to deliver a knockout blow as well as his customary sermons.
Fr Pierre 'Jalapeno' Pepper of St Rynagh's Church in Banagher, County Offaly, will be packing a punch during a charity boxing match next month.
In a playful promo video for the white collar bout on 14 March, Fr Pepper taunts his opponent, saying "judgment time is close at hand".
White collar boxing has become popular way of raising money for charity but Fr Pepper hopes to succeed in a one-off dog-collar boxing spectacle.
St Patrick's punch-up
The event is being billed as the St Patrick's weekend punch-up when fiery Fr 'Jalapeno' Pepper will step into the ring in a pub with local man, Jared Madden, after eight weeks of intensive training.
In a pre-match message to his opponent, the fighting priest, flanked by his boxing brethren, tells Jared 'The Artful Dodger' Madden that he will be saying his prayers on fight night.
Fr Pepper does not shy away from fighting talk and goads his opponents with some biblical references.
He says: "I know you're really familiar with the Bible so I'm going to give you a quote tonight: 'The Lord says vengeance is mine'."
The clerical contender hopes to have God in his corner on the night and is adopting and adapting boxing legend Muhammad Ali's slogan to use as his own: 'Float like a butterfly, sting like a priest.'
You can hear from Fr Pierre and his opponent on BBC Evening Extra from 17:00 GMT.