Gary O'Flynn: Ex-politician admits triple murder hitman plot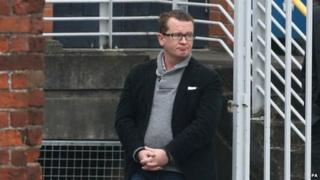 A former politician from County Cork has admitted trying to get a hitman to murder three people, including a detective and a tax official.
Gary O'Flynn, 39, of Hayfield Drive, Castlecourt, Whitechurch, pleaded guilty to three counts of soliciting a man to murder.
The former Fianna Fáil councillor appeared before the Circuit Criminal Court in Cork on Monday.
He was remanded in custody and will be sentenced in April.
The court was told that O'Flynn was currently serving a jail sentence and is due for release later this month.
O'Flynn was a member of Cork City Council between 2003 and 2008.
A member of a well-known political family in the city, his father Noel is a former Fianna Fáil backbencher.