Rebels claim to encircle Ukraine troops in Debaltseve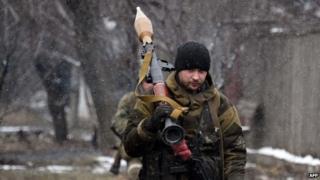 Pro-Russian rebels in Ukraine say they have encircled the town of Debaltseve - but Ukraine says its troops are still fighting along a supply road.
The strategic town is a key railway junction and has been the focus of intense fighting for more than a week.
Ukrainian officials said at least nine soldiers and seven civilians had died in fighting in the town since Sunday.
Earlier, US President Barack Obama said he had not ruled out supplying arms to Ukraine if diplomacy failed.
Russia had violated "every commitment" in a truce deal, he said, after meeting German Chancellor Angela Merkel.
Mrs Merkel is opposed to sending weapons to the warring sides.
She has been briefing Mr Obama on a new peace deal for the conflict in Ukraine's east.
Russia has denied accusations of sending troops and supplies to re-enforce the rebels battling Ukrainian forces.
'Demilitarised zone'
The rebels said on Monday that they had cut off a key supply road to Debaltseve, which is near the rebel-held city of Donetsk. However, Ukraine's military told the BBC that the battle was continuing.
Military spokesman Olexandr Matuzyanyk told the BBC "there is fighting going on for this road at the moment".
Thousands of Ukrainian troops are believed to be in Debaltseve and the surrounding area. Heavy fighting has been raging there for more than a week, with the rebels gaining some ground.
The crisis in Ukraine has already claimed more than 5,300 lives and displaced 1.5 million people.
Mrs Merkel met the US president in Washington on Monday to update him on Franco-German efforts to revive last year's Minsk peace plan, which collapsed amid fighting over the winter.
The detailed proposals have not been released but the plan is thought to include a demilitarised zone of 50-70km (30-45 miles) around the current front line.
Four-way talks between Russia, Ukraine, Germany and France are due to be held in Belarus's capital Minsk on Wednesday to discuss the proposals.
'One option'
Speaking alongside the German chancellor, President Obama said the option of "lethal defensive weapons" for the Ukrainian government remained on the table.
"If, in fact, diplomacy fails, what I've asked my team to do is to look at all options," he said, adding that offering lethal arms was only one of the options under consideration.
Mrs Merkel, who has made it clear she opposes sending lethal arms, acknowledged setbacks in efforts to reach a diplomatic solution with Russia over Ukraine, but said that they would continue.
Meanwhile Mr Obama criticised Russian aggression in Ukraine, saying that the borders of Europe could not be "redrawn at the barrel of a gun".
Russian action had reinforced the unity of the US and its European allies, he added.
EU foreign ministers in Brussels agreed on Monday to impose further sanctions against Russian and rebel officials, but have put them on hold for a week to give peace efforts a chance.
Russian President Vladimir Putin, who is also considering the peace proposals, earlier blamed the West for causing the crisis, saying they had broken pledges not to expand Nato and forced countries to choose between them or Russia.
In comments to an Egyptian newspaper, Mr Putin accused Western states of supporting a "coup d'etat in Kiev" - a reference to the ousting of former Ukrainian President Viktor Yanukovych last year.
---
What was the Minsk agreement?
A ceasefire signed by Ukraine and pro-Russian separatist rebels on 5 September 2014 in Minsk, Belarus
They agreed to 12 points including pulling back heavy guns by at least 15km (9 miles), releasing prisoners, allowing access to international observers, and setting up a buffer zone on the Russia-Ukraine border. Foreign mercenaries were to withdraw and Donetsk and Luhansk would get wider self-rule
But military clashes never entirely stopped. Each side accused the other of violating the deal and violence later flared the length of the ceasefire line
Rebels also held their own local elections in November 2014, in defiance of Kiev. The government responded by saying it would scrap partial autonomy for Donetsk and Luhansk
---
Are you in Eastern Ukraine? Have you been affected by recent events? Email your experiences to haveyoursay@bbc.co.uk
Please include a contact number if you wish to be contacted by a BBC journalist.